At the Top
At the Top
Empowerment, performance management, inspiration and reliability are all key concepts in management at ING Insurance/Investment Management. Two relatively recent CEO appointments in Central Europe, Cornelia Coman and Renata Mrazova and Cornelia Coman discuss their backgrounds and approach to success in management based on these and other principles.
SEIZE OPPORTUNITIES AND BELIEVE IN YOURSELF
Renata Mrazova was appointed CEO of ING Insurance Czech and Slovak Republics in May 2011. She was previously CFO of the business. In May 2012, she was named manager of the year by the Czech Management Association in the insurance and banking category. In September this year, ING's Czech insurance business was awarded the best insurance business and most customer-friendly insurance company in 2012 by a leading financial newspaper in the country.
Can you tell us a little about your background?
I studied at the University of Economics in Prague, majoring in Economics and Business Administration, and spent some time studying for a History of Art degree in the US. Even though I never planned to work in insurance and finance, because I was more interested in marketing and trade, my first job steered me in that direction.

While studying at university, I got a job at a pharmaceutical company, Astra, where I worked my way up to the position of HR and Finance Director. Following this I joined ING where I have worked for nine years, apart from a period outside the company. At ING I first worked as the CFO with Insurance Czech and Slovak Republics and have been the CEO of the business for the past 18 months.

For the period outside ING, I founded an insurance company, Direct, in the Czech Republic which focused on the sale of non-life insurance through direct channels such as online and through call centres. I also devoted time to my two daughters and to my family business in that period.
What qualities/attributes are necessary to be a CEO at ING Insurance/Investment Management (IM)?
Everyone seems to talk about how different life is today. The world has changed dramatically and it will continue to look different in the years ahead.

Online sales, social networks, virtual teams – these are the topics and trends we hear about every day. To be successful in this new era, you must have an effective long term strategy. It's critical that this is communicated clearly and convincingly throughout the company.

This is one of the primary responsibilities of CEOs and so they must have very strong communication skills. You also need to be very mindful of how your message is interpreted by employees; do they understand the strategy, like it and believe in it. You must give people a reason to be motivated and engaged.

Another attribute that is very important, is the ability to build a strong, winning team. Every team requires many different skills and no player should be the team's only innovator. Winning requires each player to understand his or her specific role, the roles others play, and how they all should fit together seamlessly. And a CEO must respect the diversity within the team, and the different skills and knowledge.

Last, but not least, I would stress authenticity as very important. It gives you the power to persuade and influence behavior in a natural, acceptable way. People must have trust in you and they know that you are straight and fair.

In general you must be prepared to seize opportunities, believe in yourself and your intuition! A big challenge for me as CEO is to refrain from trying to change too much at once.
What is your approach to performance management and bringing the best out of your staff?
The key role of every manager is to motivate employees to deliver outstanding results, to go far beyond the 'standard'. Showing exemplary behavior is the minimum required standard that all CEOs must be prepared to do. One-to-one coaching is, based on my experience, hugely beneficial and an efficient way to impart skills and business advice to employees. It is a universal managerial practice that helps me solve many difficult situations and is especially very useful in having people remain aligned and motivated.

Another important but very simple management technique is to find space in your busy agenda to spend quality time with your people. It is very rewarding in its own right. Effective delegation is also a very important skill. When done well, it can have a tremendous impact on engagement. My 'formula' is: delegate for the purpose of developing and empowering people and most importantly, provide constructive feedback. Don't just delegate those things you have no time for or you do not like doing.
Growth through improving the customer experience is key for Insurance Czech Republic. Can you describe some of the management initiatives taken to achieve this goal?
We have undertaken many initiatives in this area. Because of limited space here, I would like to mention a few of them.

First of all, we set a goal last year to be a more customer-oriented company delivering not only quality products but also perfect service. To fulfill this objective, we launched a major internal campaign highlighting clients as the key focus of our business. The project urged employees to think of the client in everything they do. We prepared a Customer Experience programme for all our employees to help them think 'outside in', the way our clients might see us and think about us. The programme was based on fieldwork and workshops. For example, our colleagues could spend a day with our financial planning consultants, at our planning agencies or at a call centre.

We have started to build a new self-care portal for our customers that displays all products a customer has with ING. In the first wave, we integrated mandatory and voluntary pension products. The difference between previous portals, or portals of our competitors, is that the 'voice of the real customer' is present from the very beginning.

We are also focussing on improving the customer claims experience. Market research and customer feedback shows that this is the key point in the insurance industry; the moment of truth when the customer actually finds out if he or she is getting what was expected when signing the policy.

Another initiative is about unifying (Net Promoter Score) NPS results and complaints feedback. We look at underlying causes and remedies. We communicate regularly with our tied agent networks on what bothers our customers and report regularly on NPS for every agency/unit/agent. This encourages agencies to compete with one another to achieve a higher NPS score.
How do you handle your work/life balance?
I have two beautiful daughters – five and nine years old and they are "the natural engine" that powers my determination to have the right work-life balance. I strongly believe that in order to be an effective, innovative and creative leader and to successfully energise others, one must have a satisfying life at home and at work.

I love to spend time with my family; we do a lot of things together. We love to play sport, travel, visit interesting places, read books together and go to the theatre and concerts. All these activities give me time to relax; I get a lot of energy and am happy, and this enables me to be effective, energised, successful and happy at work. It's not easy to combine a top managerial career with a family, and it requires great support and understanding from my husband and family. It requires good logistics and proper planning.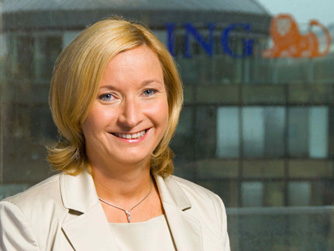 TAKE FULL OWNERSHIP
Cornelia Coman was appointed CEO of ING Insurance Hungary in May this year. She was previously CEO of ING Insurance Romania. In her time in this role, ING Insurance Romania's pension business won 'Company of the Year' for three consecutive years in Romania. Earlier this year, the business also won awards for best insurance product of the year and for its tied agencies.
Can you tell us a little about your background?
I joined ING Life Insurance Romania initially as an actuary, gaining an understanding of the insurance business, and then as a manager of actuaries. After that, I managed teams in risk management and investment management and developed the broker and bancassurance business in Romania. In 2008, I was appointed CEO of ING Life and Pension Romania.

During my time with ING Romania I was closely involved with clients, agents, marketers, call-centre representatives, project managers and many others whose daily motivation was to understand clients' needs and aspirations and to know how to serve them in the best manner possible.

Working side by side with these people, as I do now with my colleagues in Hungary, enabled me to shape the company strategy in Romania which resulted in ING standing-out from its competitors as being the most client-centric life insurance company in the country. It is also at the same time the market leader in the industry with more 30% market share.

This experience has made me the professional that I am today. I owe a lot to ING for allowing me to flourish in my professional career, and I am very proud to tell my two children, family and friends that I am an 'ING-er'.

There are two memorable "milestones" that have impacted my life while working for ING. The first relates to ING's business, particularly with regard to the pension reform that took place in Romania between 2007 – 2008. It was a fantastic, but challenging opportunity, in which a whole new business area was opened up. We worked closely with authorities and legislators in helping to shape the new pension pillars.

The second one is more on a personal note, and sums up why I like working for this company. When appointed as the new CEO of ING Romania, I was 33 years old and eight months pregnant. ING did not allow this to influence its decision to appoint me, showing that it could see the human dimension and that it recognised women's contribution to the company's growth. I felt very much part of the large ING 'family'.
What qualities/attributes are necessary to be a CEO at ING Insurance/Investment Management(IM)?
In my view anyone who is a CEO at ING Insurance/IM has to fulfill at least two main attributes. The first one is the willingness to motivate and energise the organisation to deliver the best for its customers and stakeholders.

Secondly, an entrepreneurial spirit is very important. I think that as a CEO at ING, one needs to have an entrepreneurial attitude, not only in regard to performing their normal duties but also in terms of running the business as if it was his or her own. One of the consequences of being a head of a business is that you need to take full ownership.
What is your approach to performance management and bringing the best out of staff?
I believe that success comes from continuously challenging the boundaries of the 'status quo'. I have always motivated my colleagues to look beyond any given standard and to ask themselves how they can do better. By challenging them I believe individuals can 'stretch' themselves to achieve higher professional standards. I would like to think that those with whom I've worked have achieved at least one thing: that is, they have done things they never previously thought they were able to do.

By encouraging people to move out of their 'comfort zone' and this includes encouraging them to take on different roles in the organisation, I hope to assist in their development as professionals. I try to strike a balance between empowering them to strive for better as well as giving them all the necessary support they need to succeed. I prefer to think of this as empowerment rather than delegation as I give people the freedom to act and find their own way to the solution, while providing them as well with the full ownership needed to succeed in what they have to do.
Growth through improving the customer experience is key for Insurance Hungary. Can you describe some of the management initiatives taken to achieve this goal?
ING Hungary has recently developed a comprehensive five-year strategy. We want to be the preferred life insurance and pension company in the country and our strategy is to grow by improving the customer experience. We would like to have a lifelong partnership with our clients, based on strong customer value propositions, professional financial advice and creating a community of clients based on shared values. We want to be there for our clients, providing answers and solutions for their evolving financial needs throughout their lives.

This involves providing clients with needs-based financial planning and sound advice, so they feel secure, confident about taking care of their loved ones while offering them great customer experience. In line with this we plan to create the ING Society, an online platform where members can easily contact each other as well as ING experts to share information and receive advice. Through the ING Society, we hope members will feel they are appreciated, impress others and can be proud of it.
How do you handle your work/life balance?
My position is very interesting, challenging and rewarding. It requires a lot of energy and gives much in return. However, having a new job, in another country, with specific local macroeconomic circumstances, means that there is a chance for a CEO to have an 'unbalanced' work/life routine as I am responsible for the success of this company and the people I lead. But on the other hand I of course try to achieve balance by devoting as much time as possible and energy to work and to my family.