Australians Living Super
Australians Living Super
ING Direct has launched a simple, low cost pension savings (superannuation) product in Australia: Living Super.
The bank's Living Super pension savings fund introduces the country's first balanced fund option with no administration or management fees. It is simple to understand, and has an online application process.
The launch of Living Super marks ING Direct's entry into the mainstream pension savings market in Australia.
Fair and simple financial services
"The launch of Living Super is an exciting opportunity for ING Direct as part of our commitment to providing fair and simple financial services to Australians," said ING Direct Australia CEO Vaughn Richtor.
"Living Super provides members with control, fee transparency, simplicity, and ING Direct's industry leading customer experience," Mr Richtor said.
Awards
Shortly after launching Living Super, ING Direct Australia took out two Money magazine Best of the Best awards.
Money magazine, one of Australia's leading financial publications, awarded Living Super the Lowest-Cost Default Pension Fund and Lowest-Cost Default Super Fund. The award win was broadcast on national television.
Living Super was also recognised as Best New Product of The Year by SuperRatings – a leading research and ratings agency.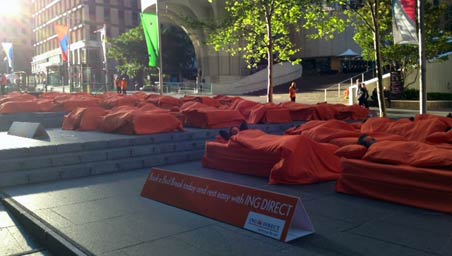 Sleep easy with Living Super
As a promotion for Living Super, ING Direct filled Sydney's Martin Place, Australia's premier business thoroughfare, with bright orange mattresses, turning it in to a live bedroom as part of its 'sleep easy' advertising campaign. The theme of the promotion was that customers were continually 'losing sleep' over their superannuation fees.
Fees on superannuation funds have been a long running issue in Australia.
"Our research found satisfaction and engagement with superannuation is lacking and customers' trust in their fund managers is at an all-time low," Mr Richtor said.
"Australians are seeking to take more control of their investments, and their future, but are struggling to find products with the accessibility and transparency to make this a reality," he said.
Mr Richtor said ING DIRECT's entry into the superannuation market addressed a need to bring a more customer focused experience to superannuation.
This article was earlier published in the 2013 February issue of ing.world.
ING Direct Australia: Living Super promo