See The Colour of Water
See The Colour of Water
The Zuiderzee Museum in Enkhuizen has extended the exhibition The Colour of Water until 6 January 2013. Some 60 works of art can be admired at this exhibition, The Colour of Water. This selection shows the work of leading artists in search of the reflection, form and depiction of water.

The Zuiderzee Museum focuses on the culture of the former Zuiderzee area and the present and future IJsselmeer area. The open-air museum has authentic buildings from villages round the former Zuiderzee. Here, young and old alike can learn about Zuiderzee culture. The indoor museum familiarises visitors with the art, culture and heritage of the area before and after the Zuiderzee was sealed off from the sea.
Exhibition
The Colour of Water was opened in the indoor museum at the beginning of April. The exhibition is a joint initiative of ING Art Management and the Zuiderzee Museum. Works of art can be admired at this exhibition that have a connection to life at sea and the seashore. The oldest work on display is a village scene painted by Joost Cornelisz Droochsloot (c. 1585 - 1666) which dates to 1643. The most recent work will be completed on site by an artist in residence at the museum in the course of the exhibition.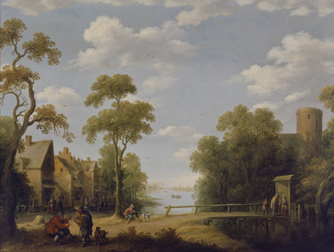 Artists in residence
The Zuiderzee Museum and ING have selected six artists in residence for the exhibition. Each of them will spend one month at the museum drawing inspiration from the former Zuiderzee for a new work of art. Visitors thus get a glimpse into the creative process behind the works of art.
Tip for the holiday season
The Zuiderzee Museum is an interactive museum for everyone and offers a number of children's activities. Experience an unforgettable day with your family. Play old Dutch games, hunt in all sorts of special places and make your own clog boat. And much more. Check it out.
A. - Barend Blankert (1941)
In bad (Une Baignade) 1990
B. - Ellen Kooi (1962)
Katwijk – Bomen 2005
C. - Jan van Dis (1945)
Geen begin zonder eind 2006
D. - Heli Rekula (1963)
Landscape no.10 Erosion 1999
E. - Mario ter Braak(1960)
Reflectie 2005
F. - L.J.A.D. Creyghton (1954)
Grandcamp Maisy 2002
G. - Marnix Goossens (1967)
De Nederlandse kust 2008
H. - J.C. Droochsloot (ca.1585-1666)
Dorpsgezicht 1643
I. - Ruud van Empel (1958)
World # 23 2006