Steady Course Ahead
Steady Course Ahead
In 2012, ING Group achieved several major milestones in its banking and insurance/investment management businesses. An update

Here in two articles we outline the solid progress made in restructuring the insurance/investment management business, and how the bank sharpened its strategic focus and strengthened its capital, liquidity and funding.

These articles were earlier published in the February issue of ing.world.
Insurance/IM restructuring gathers pace
2012 was a busy year for ING Insurance and Investment Management (IM) as it pressed ahead with its restructuring activities. By the end of the year, much had been achieved including the divestment of several insurance and investment management businesses in Asia, the development of a roadmap for the standalone future of the European insurance and investment management business, and the anticipated IPO of the US insurance and investment management business moving closer to reality.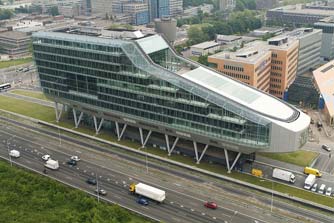 Read more on the Insurance/IM restructuring


Building the preferred bank
In January 2012, ING Bank launched a new strategy. It announced, that until the end of 2013, the bank would focus on repaying the Dutch State, completing the EC restructuring and meeting the increased capital requirements known as Basel III.