Painting on loan to mark Concertgebouw and KCO jubilee year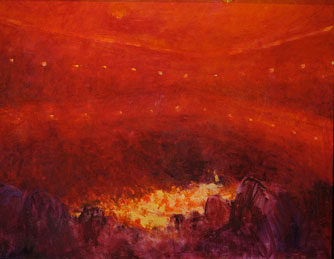 ING has given a painting on loan to mark the 125th anniversary of the Concertgebouw and the Royal Concertgebouw Orchestra.
The art work from the ING Collection is entitled At the concert and was painted by Michael Ryan. ING has loaned the painting until the end of 2013.
Jan Hommen, CEO of ING, and Simon Reinink, director of the Concertgebouw, recently unveiled the painting during a festive meeting. This meeting was attended by various representatives of the Concertgebouw, including Jan Raes,executive director of the Royal Concertgebouw Orchestra, and Alexander Rinnooy Kan, chairman of the Concertgebouw Supervisory Board.
Alexander Rinnooy Kan took the initiative for the jubilee year loan.
Sanne ten Brink, head curator of the ING Collection and a member of ING Art Management : "Michael Ryan's painting really looks wonderful in the Concertgebouw. Ryan is an absolute master at capturing the vibrant dynamics of the strings section on canvas. It's an image that is sure to strike a familiar chord with visitors to the Concertgebouw."
Michael Ryan (Pearl River, New York – 1953) is an internationally renowned artist. He lives and works in the Netherlands.