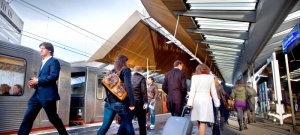 What matters
What sustainability means to ING
"For us, sustainability is about creating long-term value. It is about making sure that we enable people and businesses to make informed financial decisions, that our products and services are inclusive and accessible, we integrate environmental and social criteria into the way we do business, and that we remain a top employer for our people."
Our approach:
We contribute to a reliable financial system that encourages and facilitates the sustainable development of the economy.
ING's role in society:
As a leading bank, insurer and wealth manager with over 82,000 employees in more than 40 countries, our role is to use our scale, reach and expertise to stimulate economic development.
Creating value:
A healthy economy drives social progress and helps to build a better quality of life for people.

We recognise that the value we create extends beyond monetary returns. By financing major infrastructure projects, supporting entrepreneurs and insuring families and businesses, we work alongside our customers to promote economic activity and seek to support sustainable change.
Sustainability in action:
To drive sustainability throughout our business, we focus on five key areas where we believe we can make the greatest difference to us and our stakeholders.

We use this framework to set targets, improve performance and extend the scope of the value we create.
By sustainability, we mean:
Put simply, our customers come first. By improving how we listen to their needs, we are creating a more customer-centric business.

We offer access to financial services without discrimination.

We aim to be inclusive in our products and services and address the specific needs of marginalised or minority groups.

In fact, 85% of our retail units offer products or services to special needs segments.
Building a better business means maximising the shared value we create for society. It means being careful about where and how we invest our money and expanding our sustainable product portfolio.

It also means investing in sustainable projects, show for instance by the fact that 39% of our global project finance energy portfolio is allocated to renewable energy deals.
Our ambition to be recognised as a Top Employer isn't one we take lightly. With big shifts happening in the financial sector, it's important that we attract the right talent to guide us through difficult challenges.

And by being a better employer we are creating an inspired and more motivated workforce.

We focus on creating an open, inclusive, stimulating and safe place to work for all our people.

And it's working. Last year we've won 7 Top Employer Awards.
As a global organisation we know there's always more we can do to reduce our environmental impacts.

Whether it's by managing our footprint more closely or by integrating sustainability principles more fully in our procurement process.

Ultimately, we want to minimise the impact of our operations on the environment.

Actually, we have been carbon neutral since 2007.
We consider it our responsibility to make a positive contribution to the many communities in which we operate. We have chosen to prioritise our global initiatives around two themes – children & education and financial education & entrepreneurship.

Focusing on these issues makes sense as it matches our skills and expertise, as well as supports our goal to invest in tomorrow's economy. We do this by supporting people to find their way towards a financially secure and independent future.

Last year, for example, we have donated 13.4 million to charities and are on target to positively impact one million children by 2015.