Enhancing customer centricity
What matters
Customer centricity
Net Promoter Score
Enhancing financial capability
Financial inclusion and accessibility
Facts / Figures
We offer mobile banking services in all our retail markets
77% of our retail units offer tools to enhance financial literacy
85% of our retail units offer products or services to special needs segments
Goals
Further develop thought leadership on financial education, e.g. by conducting more international surveys
The needs of our customers come first. Our products and services are designed around this principle: attractively priced, offering exceptional service and convenience.
Ensuring customer suitability
Our customers expect accessibility combined with a speedy and efficient response to their queries. We strive to go beyond the requirements of basic compliance with consumer protection and financial regulation by offering transparent products and services complemented by informed, objective and professional advice. It comes down to creating a suitable delivery model, through the right distribution channels and at a fair price.
Placing the customer at the heart of everything we do
Customer feedback forms the basis of our decision-making. The introduction of our Net Promoter Score (NPS) program goes beyond a simple measure of customer satisfaction. NPS triggers immediate action based on customer feedback about their experience of doing business with ING. It stimulates staff to share customer input across the organization, thereby driving a cultural change.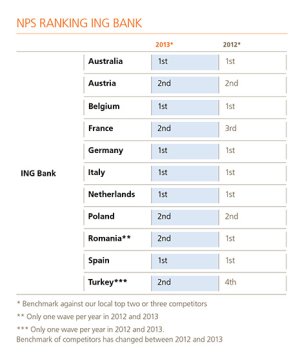 Enhancing financial capability of our customers
ING believes it is our responsibility to assist in better money management. Financial decisions influence every aspect of life – from education, career and business endeavors to family life across generations. We want our customers to be armed with sufficient knowledge to manage their money well. As financial partners we offer insight, tools and programs to adults from all walks of life to help improve decision-making around the most common areas of savings, investments, insurance, mortgage and pensions.