Improving environmental performance
What matters
Managing our direct environmental footprint
Sustainable procurement
Advocacy
Facts / Figures
73% of electricity procured from renewable sources
Goals

Lower our CO2 emissions by 30% in 2012 compared to 2007
Further review procurement processes in order to create more sustainable practice
Our ongoing assessment stresses us to further reduce our own carbon footprint, directly through our actions and indirectly through the effects our business.
Managing our direct environmental footprint
More efficient use of energy and water, reduction of greenhouse gases and waste must start within our own business operations. We began measuring our emissions in 2005 when we published our first Environmental Statement and have been reporting on our global operational footprint ever since to several sustainability rating agencies, including the Carbon Disclosure Project.
Our direct footprint consists mainly of paper, energy usage and business travel. We take a critical look at our use and procurement of resources essential to our day-to-day operations, and have set ambitious targets to reduce this operational footprint. In 2011, the absolute amount of carbon emissions from our business operations had decreased by 20 per cent.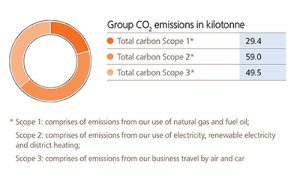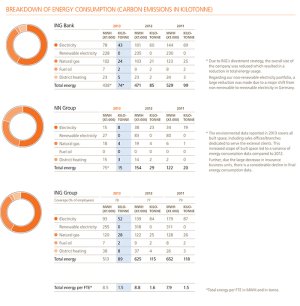 Sustainable procurement
In 2012, ING has committed itself to enhancing the sustainability of its procurement practices by taking into account the environmental and social aspect of the products and services procured. An important step not only for ING, but also for our suppliers.
As a signatory to the UN Global Compact (UNGC), we have asked our suppliers to agree to compliance with the UNGC principles that promote human rights, fair labour practices, environmental protection, and anti-corruption since 2009.
Taking this a step further, we started the Sustainable Procurement Program in early 2012 to fully integrate sustainability into the procurement process. Simultaneous with the start of the program was the development of a new Procurement Charter. This Charter states that sustainable procurement to ING means taking into account the environmental and social aspects of the products and services to be procured, as well as the attitude of the supplier towards sustainability. By influencing our suppliers to share our standards and work towards continual improvement, we believe we can make a visible impact on the environment and society in which we operate while mitigating reputational risks.
To formally secure the integration of sustainability into the procurement process, ING launched and implemented the ING Procurement Sustainability Standards (IPSS) in 2012. We ask our suppliers to commit to the IPSS prior to entering into a contractual agreement.

Advocacy
Besides raising in-house awareness, ING invests in learning more about global warming and gets involved in working groups and other initiatives:
We have signed the Climate Change Statement of the Global Roundtable on Climate Change in 2005
ING is a member of the Climate Change Working Group of the UNEP Finance Initiative
ING supports the Carbon Disclosure Project (CDP) as a signatory partner. ING's disclosure score on the annual CDP assessment improved strongly to 93 points from 64 in 2011. In November 2012, ING hosted the official publication of the report of the CDP's 'Benelux 150 Climate Change Report 2012'. This report assessed the activities undertaken by the top 150 listed Benelux companies to reduce the risks posed by climate change.