Promoting responsible lending and investment practices
What matters
Finance and transparency
Environment and Social Risk management
Promoting sustainable business
Facts / Figures
Total Sustainable Assets Allocated for both ING Bank and NN Group: € 6,570m
39% of our global project finance energy portfolio is allocated to renewable energy deals
We allocate 41% of the ING Bank's balance sheet to mortgages and other type of loans to private individuals
Goals
Maintain an up-to-date ESR policy framework and promote ESR in the sector
Actively marketing sustainable products and services
Investigate the consequences of resource scarcity for our clients and assist them in formulating financial solutions
50% of our global project finance equity energy portfolio consists of renewable energy in the coming 12 to 18 months
Sustainability contributes to long-term business success, for us and our customers, as it leads to economic development, a healthy environment and consequently a stable society.
Finance and transparency
People will entrust us with their money only when they feel we are committed to managing it well. We are aware of the increasing levels of expectations on responsible finance from customers and broader society. Towards this end, it is our attempt to maintain optimal transparency on the origins and ultimate use of the funds entrusted to us.
Credit risk portfolio per client segment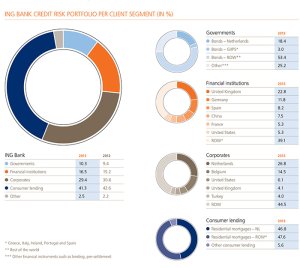 The balance sheet provides an insight into the funding sources of ING Bank as well as the allocation of these funds. It also illustrates the application of the ESR framework in our commercial lending opportunities.
Global Energy Portfolio
We appreciate the vital role that the global energy sector plays in combating environmental challenges and catalyzing sustainable development. On our part, we strive to bridge the investment gap in the cleaner technologies sector. We also urge governments to create (tax and legal) incentives for long-term investments in such innovations.
Renewable energy deals
Environmental and Social Risk management (ESR)
ESR Policies
Our financing and investment policies as well as our broader business ambitions are structured around strongly embedded social, ethical and environmental criteria. An extensive ESR policy framework is there to guide our decisions for client engagement and assessing finance proposals. An overview of our ESR policies is available for download. Other sustainability policies can be downloaded here.
ESR screening
ING's dedicated ESR department advises on potential environmental and social sensitivities at both the client and transaction level. Every client of ING is assessed against the requirements of the ESR Policy framework to ensure compliance before we do business. This is followed by continuous monitoring and evaluation once the business engagement is clinched. The process and governance model is explained in the image on the right.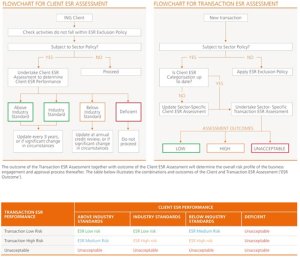 Applying Equator Principles (EP)
ING is a strong advocate and user of the Equator Principles that guide banks in their project financing. Application of these principles requires extensive research on environmental and social risks. All projects seeking finance are assessed and the clients are made aware of potential environmental and social risks and mitigation opportunities. Only when we are convinced of the client's commitment to a requisite environmental and social standard do we commence business.
Our stance
13-02-2013 | (Dutch only)
17-01-2013 | (Dutch only)
Promoting sustainable finance
Sustainable products
We actively leverage our resources, skills and expertise towards addressing societal challenges such as climate change and environmental protection, education and healthcare. Our aim is to meet the growing demand for products and services that not only generate good financial returns but also facilitate the transition towards a more sustainable economy.
Inclusive Finance
ING acknowledges the importance of inclusive finance. Since 2004, we have granted loans to micro-finance institutions (MFIs) in developing countries, which then lend the money to micro-entrepreneurs. ING Vysya Bank Ltd. in India provides direct loans to such entrepreneurs and self-help groups. We serve more than 400,000 micro-entrepreneurs in the country, with a current portfolio of EUR 53 million.