Safe storage of valuables for European football fans
A different kind of safe for your valuables? That's us! ING is supporting European football fans with a giant lockerwall first in Gdansk and later in Frankfurt.

The 2012 UEFA European Football Championship will be hosted by Poland and Ukraine between 8 June and 1 July.

ING will be supporting football fans in Poland and Germany by offering a special service - the ING Lockerwall.

This free service allows supporters to enjoy the football matches without worrying about their valuables.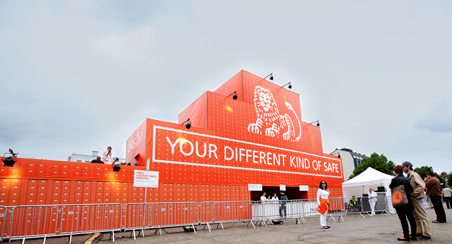 Free
The ING Lockerwall is a free service. However, we request a deposit of €5. The deposit will be refunded when you return the locker key. If you would like to make a charitable donation, please consider donating your deposit to the Johan Cruyff Foundation.
Johan Cruyff Foundation
Since 2003, the Johan Cruyff Foundation has been providing artificial grass pitches, called Cruyff Courts. Over the years, these courts have gradually come to international prominence, and have become a familiar sight in cities all over the world.

To ensure the success of the Cruyff Courts, the Johan Cruyff Foundation works closely with local governments and/or local private institutions to realise their vision. In Poland, the Foundation will build a football pitch for local children. Together with the Johan Cruyff Foundation, you can make this happen. Please consider donating your key deposit to this worthwhile cause.
Sidebar
Contact
Lost & found