ING Collection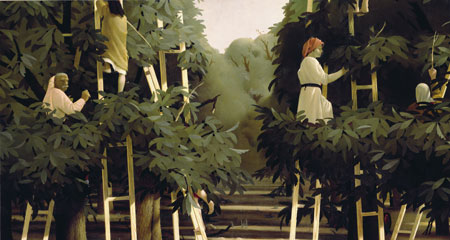 Facts and figures
15,000 artworks of high quality
On display at 900 ING office locations worldwide
Admired by 82.000 employees worldwide
Theme of the ING Group Collection: contemporary art by professional artists
Focus on quality and leading movements
Represented disciplines: painting, sculpture, drawing, photography, glass, video and graphic art
Art Management is represented by local curators in the following countries: Belgium, the Netherlands, Poland and the United Kingdom
ING's collections and sub-collections complement, contrast with and add to each other
The collection stresses the compilation of and coherence between artists and groups among the different countries
Art is displayed at ING office locations worldwide
Yearly the collection is made accessible to a wider audience through seven exhibitions, 500 artworks on loan and several publications
Art is an essential part of ING's corporate identity and creates a colourful daily work environment at ING office locations worldwide. Art can be seen everywhere at ING: in corridors, conference rooms and office restaurants. Many ING employees feel privileged to be surrounded by works of art, which encourage social interaction and create an inspiring environment. ING locations worldwide are decorated with works of art supplied by headquarters in the Netherlands. ING's art can also be admired outside of ING, which regularly organises exhibitions or loans out works of art to Dutch and foreign museums.

The ING Collection is highly international and always in motion thanks to the history, traditions and growth of ING throughout the world. All countries where ING is active are supplied with art from headquarters in the Netherlands.
ING Collections
The international ING Group art collection falls into five sub-collections:
ING Collection in the Netherlands
ING Collection in Belgium
ING Collection in Poland
ING Collection in the United Kingdom
ING Insurance & Investment Management EurAsia
Aims
To present a consistent and uniform collection with a focus on quality. To make the collection accessible to a broad audience
To create a pleasant work environment by putting art on display at office locations worldwide. To enjoy art and use art to stimulate and promote creative thinking
To give contemporary artists a platform by organising exhibitions, lending works of art and producing publications
ING plays an important role in society by promoting contemporary art.
Collection policy
The ING Collection was founded in 1974. Thirty-eight years later, the collection has grown to become an extensive and leading corporate collection. The size of the collection has been reduced in recent years, but its quality has been raised to a higher level.

ING promotes art and culture in its own modest way. The group pursues an active and prudent art and culture policy for this purpose. The theme of the group collection is contemporary art by professional artists. The aim is to create greater cohesion among the individual artists and groups of artists in the different countries. ING´s art collections (Belgium, Poland, the United Kingdom and the Netherlands) augment and complement each other. Their representatives are placed in a contemporary context. The ING Collection shows the development of particular schools/groups. The focus is on high quality, international and innovative works.
History
The ING Collection dates back to 1974 upon the opening of a new head office for NMB (the Dutch bank for SMEs) in Amsterdam's Eduard van Beinum Street. Over the course of time, important collections were added to NMB's through various mergers and acquisitions, such as when NMB merged with Postbank. Later, the NMB Postbank Group merged with Nationale-Nederlanden. The company carried on under the name of ING (International Netherlands Group). And the Dutch ING Collection was a fact. The company was in motion around the world.

ING merged in 1998 with Bank Brussel Lambert (BBL), and important international collections were added through the acquisition of Barings Bank in 1995 and the majority stake taken in ING Bank Slaski in 2001 and in Seguros Comercial América in 2001. This addition was geared, however, to the creation and contours of the Dutch part of the collection.

The art policies pursued by Postbank and Nationale-Nederlanden were worlds apart from that of NMB. While NMB focused on figurative art, the emphasis of the other two was on photography and abstract art. A lot has changed at ING in recent years, and that also has implications for the art collection. The separation of the group's banking and insurance business announced in October 2009 sparked ING Art Management to revise the collection. ING Art Management has thus divided the ING Group Collection into an ING Bank Collection and an Insurance Collection, with history and culture as the main drivers.
Best practices
Enjoyed by 82,000 employees worldwide
All ING staff may select a work of art for at their desk
Exhibitions in national and international museums
Several catalogues have been published: Uit de kunst van de Bank (1990), De ING Collectie, een selectie (1998), Art in the Office (2006), Realismo Olandese (2008), Real Photography Award (2008), Exhibition of the Golden Years of Dutch Painting (2009), Magic Realism, past toward contemporary (2012).
Art Management Services. Wealth Management, Private Banking and Commercial Banking customers can benefit from the 38 years of experience built up by the Art Management department.
ING Real Photography Award. In 2007, ING launched the biggest award for photography in the world.
ING Art Management is active in the social media