2016 Annual Report - Accelerate
We're all busier than ever before. The pace of change is increasing. This creates challenges for people but also offers new opportunities to serve them better. New trends are re-defining the customer experience. As leaders in digital banking, we are stepping up our own transformation to ensure we stay relevant to customers in this changing environment. Now is the time to accelerate.
Key Figures
Net result ING Group
+ 16 %
Underlying net result Banking
+ 18 %
ING Group's underlying return on equity
+ 10.1 %
Fully loaded CET 1 ratio ING Group
14.2 %
Underlying cost/income ratio ING bank
54.2 %
Net Promoter Score Retail Banking
Top Ranking
Sustainable transitions financed
34.3 bln
Sustainable assets under management
3.3 bln
CO2e emissions
74 kilotonnes
Customers felt financially empowered
23.9 mln
Accelerate
The year in fast-forward
Customer expectations are changing. So too is ING. In today's switched on, plugged in world there's no time for the mundane anymore. It requires new ways of doing things, also banking. ING is picking up the pace to meet these needs better and faster. In 90 seconds we give you some examples of what we did in 2016.
How we create value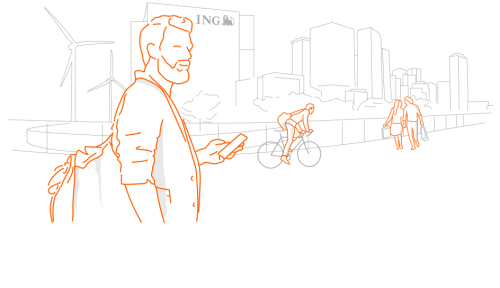 The role of a financial institution is to support and promote economic, social and environmental progress leading to a better quality of life for people in society, while generating adequate returns for shareholders. This is what the value we create for and with our stakeholders, such as customers and shareholders, should be about. How we create value is illustrated in our Value Creation Model.
View our Value Creation Model