Annual Review 2014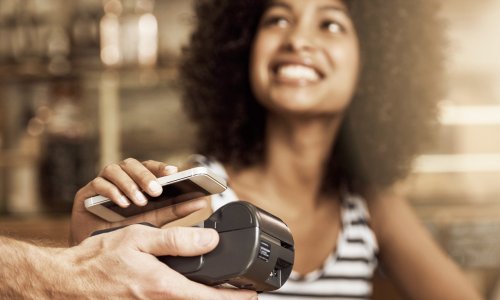 5. Retail Banking
Retail Banking performed well in 2014, returning strong results in a challenging economic environment. We grew our lending portfolio, attracted more customers and achieved higher levels of customer satisfaction. Specific initiatives are bringing our strategy to life. We are earning more primary relationships and enhancing our payment solutions.
Highlights
Total customer numbers rose to more than 32 million in 2014.
Retail Banking posted strong results in 2014.
The focus was on becoming the primary bank for customers.
Our customers – individuals, SMEs and mid-corporates – are at the heart of our retail business. Our focus is on becoming their primary bank by being innovation-driven and fulfilling their needs.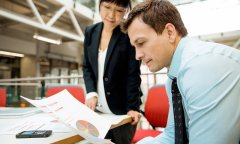 Connecting international business
We manage mature and growth businesses in Europe, Asia and Australia. We are the market leader in the Netherlands, Belgium and Luxembourg. We have solid markets in Australia, Austria, France, Germany, Italy and Spain. We have competitive positions in Poland and Romania and promising positions both in Turkey and through our stakes in Bank of Beijing (China), TMB (Thailand) and ING Vysya Bank (India). Late November 2014, ING Vysya Bank and Kotak Mahindra Bank announced their intention to merge their respective businesses.

Our deposit base positions us well to provide lending to our customers. We aim to further diversify our asset base and build sustainable market share. Read the case study: Connecting international business
Strong retail deposits gathering ability (in EUR bln, full-year 2014)
2009 and 2011 have been adjusted for the divestments of ING Direct USA, Canada and UK.
The move to omnichannel
Retail Banking has been transforming its traditional banking model to a digital-first model over several years. In November, we announced a major change programme in the Netherlands to introduce a seamless, real-time customer experience across all banking channels. Customers will be able to bank when, where and how they want to, and switch between channels with no interruption to their data or service.

We believe this omnichannel approach (swipe, click, call, face) to banking services will lead to increased customer contact and will help us establish more primary relationships. We have been introducing more automated processes and simplifying IT infrastructure to support the transition.
Improving reliability
In 2014, we struggled with several system outages, mainly in the Netherlands. We put a lot of effort into solving these issues in 2014 and are continuing to improve our systems as we are aware of the inconvenience caused by the outages.
Privacy and cyber security
Security and anti-cybercrime initiatives were important priorities in all of our business units in 2014. ING has comprehensive prevention, detection and response measures in place to defend against cyber-attacks and to reduce the level of any losses. We have set up cybercrime expertise and response teams Bank-wide.
Converging towards a digital-first business model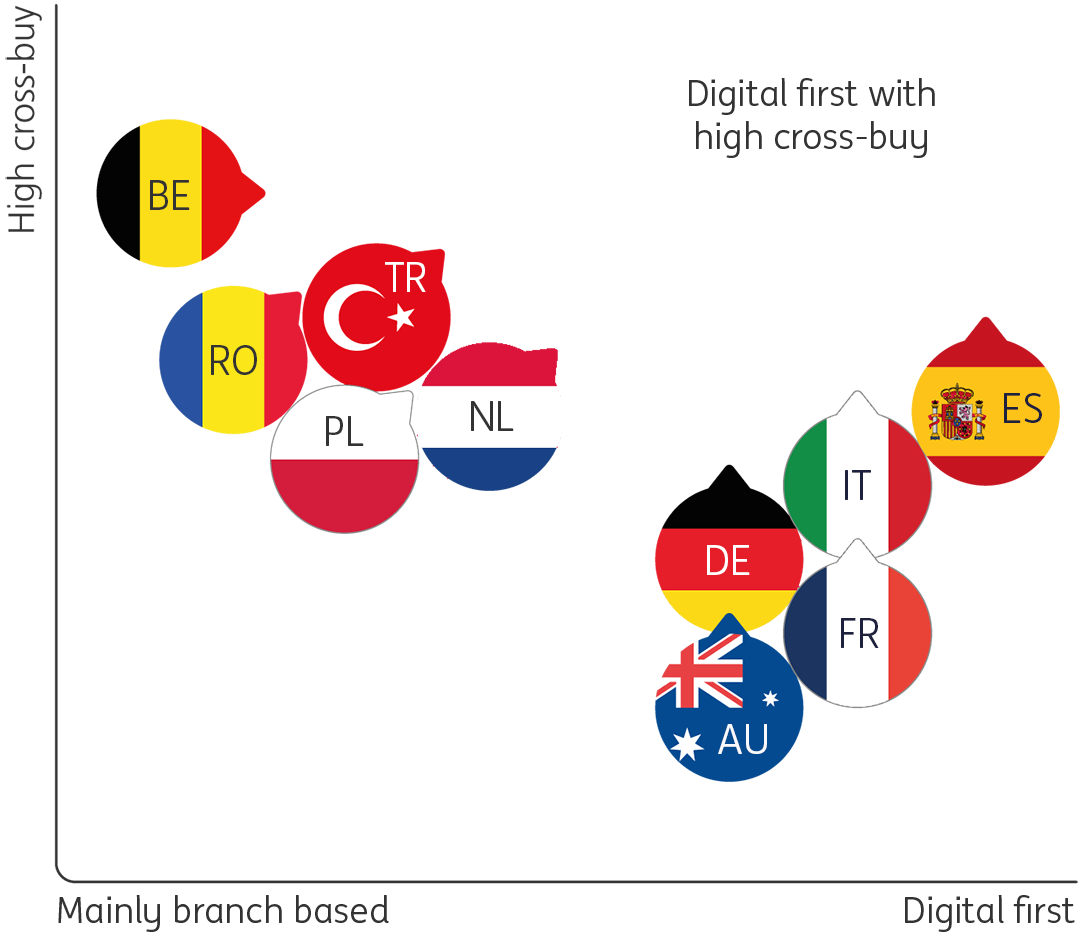 Cross-buy = average number of products per active customer. Luxembourg is reported under Belgium, Austria is reported under Germany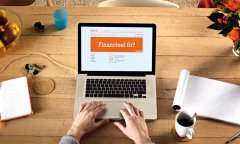 Empowering people to stay a step ahead
In 2014, we introduced a number of initiatives across the businesses to empower people to stay ahead in life and in business. In the Netherlands, ING's Financially Fit programme is building consumer awareness about managing personal finances. The programme's articles and tools have been accessed more than three million times. In Luxembourg, the My Money financial blog offers tips and advice. In Italy, VoceArancio's daily financial information blog is very popular on social media.

Six million debit card holders in the Netherlands now use ING's contactless payment facility. In Spain, customers track their finances anytime, anywhere via mobile, desktop or tablet. In Belgium, self-employed individuals and companies can conclude credit applications online when it suits them.
For anyone planning a new start-up, our free online business calculator – the result of shared best practice between Belgium and the Netherlands – will give quick feedback as to whether the idea is viable.
Developing lending capabilities
Sustainable growth in consumer and SME lending is a key focus area. We have appointed a global head of Consumer and SME Lending to develop specific consumer and SME propositions based on the digital-first model. Our initial focus is on challenger markets, innovative propositions and mobile distribution.

We are backing SMEs in the Netherlands with venture capital through the Orange Capital Enterprise Fund (Ondernemend Oranje Kapitaal). The 'Week van de Ondernemer' initiative offers networking and support for entrepreneurs.

As their businesses grow, we remain at their side. The Orange Trade Mission Fund (OTMF) empowers promising Dutch companies with international ambitions. OTMF is a joint initiative of ING Bank, the Dutch SME Association, KLM and the Dutch Ministry of Foreign Affairs. It aims to help and inspire exporters to increase their chances of international success.
Creating a differentiating customer experience
The Bank's customer promise – to deliver a differentiating customer experience with clear and easy, anytime/anywhere services that empower customers and that keep getting better – is at the core of the changes in Retail Banking.
Read more about how we create a differentiating customer experience
Driving sustainable progress in society
We want to empower people in life. We help them gain skills and insights to secure a sustainable financial future. ING donated EUR 785,000 to support financial empowerment related activities and organisations in 2014. Our employees volunteered over 1,850 hours of their time.
Read more about our sustainable initiatives
Awards
ING-DiBa
Germany's Most Popular Bank
€uro business magazine
ING Belgium
Best Bank in Belgium
The Banker Awards 2014
ING Netherlands
Best Social Media Company
Social Media Monitor
Financial results
Retail Banking posted strong 2014 results. The underlying profit before tax rose by 23.5 percent to EUR 3,158 million on the back of healthy business growth and substantially lower risk costs in most markets.

Underlying income rose 5.1 percent from 2013 to EUR 10,685 million. The increase was driven by higher interest results in most countries due to higher volumes and improved margins on lending and savings. The margin on current accounts declined due to the low interest rate environment.

Net funds entrusted (adjusted for currency impacts and the deconsolidation of ING Vysya Bank) grew by EUR 19.2 billion in 2014. Net lending (also adjusted for the transfers of WestlandUtrecht Bank (WUB) mortgages to NN Bank and the sale of a mortgage portfolio in Australia) increased by EUR 8.4 billion, entirely outside the Netherlands. Net lending in the Netherlands declined due to higher prepayments on mortgages and subdued demand for business lending.

Operating expenses increased by 4.0 percent to EUR 6,433 million in 2014, due to higher redundancy provisions mainly related to the further digitalisation of our banking services in the Netherlands. Excluding these provisions in both years, expenses were almost flat.

The underlying cost/income ratio, excluding redundancy provisions, improved to 56.9 percent from 59.7 percent in 2013. Risk costs declined by 23.0 percent to EUR 1,094 million in 2014, with declines in all regions, including lower risk costs for Dutch mortgages.
Underlying profit and loss account
(in EUR million)
2014
2013
2012
Underlying income
10,685
10,162
9,090
Operating expenses
6,433
6,183
6,014
Risk costs
1,094
1,421
1,166
Underlying result before tax
3,158
2,558
1,910
Business line share of underlying result before tax*
*
Small differences are possible in this pie chart due to rounding compared to the most recent annual report of ING Groep N.V.
The Annual Review 2014 continues with
6. Commercial Banking