Annual Review 2014
3. What matters most
ING regularly evaluates the impact of our business on our stakeholders. We rely on their input to balance competing expectations, address issues in an informed way and, most importantly, make our business better.
Finding out what matters most
ING conducts regular materiality assessments to find out what the key priorities for our stakeholders are and their potential impact on our organisation. The results guide us in our strategic decision-making, stakeholder engagement agenda and reporting framework. In 2014, ING asked 1,600 people in seven stakeholder groups in seven countries to rank a range of topics by significance.

The materiality matrix as shown in the figure represents the outcomes of the 2014 materiality assessment. It charts the responses of our stakeholders against our own analysis of the impact of each issue on our business. High priority / high impact issues are most material. They appear in the top right of the chart.
High priority issues for our stakeholders and ING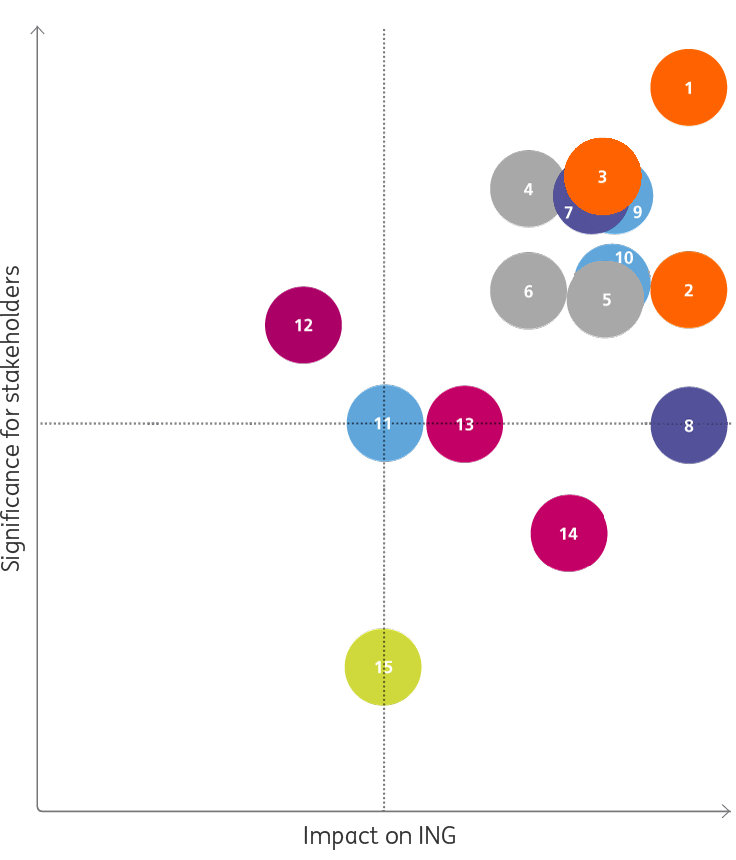 Economic contribution
1

Economic performance

2

Indirect economic impacts

3

Managing risks
Customer centricity
4

Innovative business developments

5

Customer privacy and data security

6

Enhancing customer financial capabilities
Fair operating practices
7

Sustainable finance & investment policies

8

Regulatory developments
Stakeholder engagement
9

Transparency and openness

10

Stakeholder dialogue

11

Regaining trust
Labour practices
12

Diversity and equal opportunity at ING

13

Career development and employability of ING employees

14

Remuneration of ING employees
Environmental footprint
15

ING's direct footprint
What the materiality matrix tells us
Being able to identify our most important issues helps us to prioritise more effectively. From the materiality analysis, it is clear that the stakeholders want us to address both financial and non-financial issues. We are engaging with these issues directly and through integrated reporting. This year's Annual Review incorporates considerably more non-financial information. When it comes to our financial activities, stakeholders say they are most focused about our economic performance, for example, our financial health and stability.

In the section below, we report on one of the material issues in each of the six categories: Economic contribution, Customer centricity, Fair operating practices, Shareholder engagement, Labour practices and Environmental footprint. A table of all 15 high priority issues identified in the 2014 materiality assessment can be found in the 2014 Annual Report on pages 18 and 19.
Economic performance
Stakeholders want a financially healthy and stable company and it is a top priority for ING. In 2014, we posted strong commercial and financial results, with an increase in interest results and lower risk costs.
Customer privacy and data security
Trust is the cornerstone of successful banking relationships. ING customers expect and require privacy to be protected and sensitive financial data secured. Customer Privacy and Data Security remained key in 2014.
Sustainable finance and investment policies
Our aim is to finance activities that have a positive impact on society. This is an increasingly important matter for our stakeholders and for us. Total sustainable transitions financed in 2014 were EUR 19.5 billion.
Transparency and openness
Our stakeholders expect us to be transparent and open about our investments and products and services. In 2014, we made further efforts to improve transparency, for example, by working to align processes more directly with customer priorities.
Diversity and equal opportunity at ING
Equal opportunity in the workplace is largely expected by society. ING's diversity programmes contribute to ING's performance culture. We are reviewing our current leadership programmes and are tailoring these to be much more integrated with our values, behaviours and diversity principles.
ING's direct footprint
By reducing our direct footprint through emissions (energy efficiency measures, business travel), the environment benefits and we reduce costs. The total extrapolated amount of carbon emissions for ING Bank decreased from 127 to 102 kilotonnes.
Key outcomes
The key outcomes of our materiality assessment are reflected in our purpose, our customer promise, and the strategic priorities we presented in March 2014. We will continue to assess the expectations of our stakeholders and work to improve our performance on high priority material issues.
How we are balancing our responsibilities
We consider stakeholders' interests carefully and involve them in the design of our business strategies. Different groups have conflicting expectations and competing interests. We calibrate our strategy accordingly, but we face dilemmas as we try to reconcile our responsibilities.
How do we strengthen capital and liquidity without damaging our capacity to lend to people and businesses?

In the past two years, our funding capacity has not been a factor hampering our efforts to serve our customers. We have been confronted, though, with a reduced demand for credit from SMEs and individuals as well as insufficient creditworthiness of SMEs in some countries and certain markets. ING is addressing this through initiatives that improve their access to credit.

Meanwhile, our own capital and liquidity buffers have been bolstered. Since 2008, the regulatory focus has been on building banking resilience. This was necessary, but the new rules have sometimes limited banks' capacity to lend to the real economy. Differences in local regulations limit our ability to transfer capital between entities in different European countries. This restricts our ability to channel funds where they are needed.
How do we ensure shareholder dividends are sustained in our plans for the future?

We suspended dividend payments in 2008. In the years since, we have focused on rebuilding the bank by repaying the capital support received from the Dutch State, through restructuring and by strengthening our capital base. We have now repaid the Dutch State and are nearing the end of restructuring. We are now in a position to resume dividend payments, in line with our policy of linking dividends with long-term underlying development of cash earnings.

We propose to pay a final 2014 dividend of EUR 0.12 per share, subject to the approval of shareholders at our AGM in May 2015. ING intends to pay a minimum of 40% of ING Group's annual net profits to shareholders, through dividends, with effect from 2015.
Can we accelerate the transition to a more sustainable society if we do business with companies that don't comply with the highest social and environmental standards?

Resource scarcity will change how business works. As households and businesses move towards cleaner technologies, there will be opportunities. We can play a facilitating role by financing change, sharing knowledge and using our influence. Social, ethical and environmental criteria are strongly embedded in our financing and investment policies and practices. However, we need to support customers, which still have challenges ahead of them, to help them make their existing business models more sustainable.

We have set clear targets to meet the growing demand for products and services that not only generate good financial returns, but also facilitate the transition towards a more sustainable economy. Our research teams actively explore business cases for sustainability.
Can we guarantee personal information will be protected while using advanced customer data analytics?

Protecting our customers' interests, including their financial information, is a company priority, which also makes commercial sense, and is a legal requirement. While new technology makes it possible to extract much more value from our data, it also allows us to fulfil our duty of care more effectively by providing customised services. Increased insight into consumer payment patterns for instance means we can warn customers sooner that they risk defaulting on monthly mortgage obligations.

Data analysis also plays an important role in protecting our customers from bank -card fraud. Moreover, advanced analytics help us target offers more precisely so customers only receive offers for products that are relevant to them.

In pursuing all these objectives we strive to ensure compliance with data protection laws and regulations and aim to provide optimal security of data as well as for all transactions, whilst respecting customers' privacy. Notwithstanding the above, as the internet places so much power in the hands of any technically proficient individual, there continue to be risks online.

We therefore aim to actively raise our customers' awareness of actions they can take themselves to safeguard their information, such as using strong passwords, installing updates and not sharing personal information with others.
Financial regulation is a matter of public interest. Should we provide full transparency on our interactions with policymakers and supervisors?

The consideration we give to all interested parties may sometimes prevent us from publishing all details about our contacts with supervisors or other stakeholders. Information we share with these parties may also need to be kept confidential on competitive or supervisory grounds.

Fore these reasons, we do not normally publish information on financial supervisory and regulatory matters. Transparency is an important objective, which we pursue in other ways. We respect the law, including national statutory requirements and international transparency obligations, and also the rules we set for ourselves.

We publish our approach to stakeholder engagement in the ING Group Sustainability Annex 2014, in the ING in society section of ING.com and disclose the organisations in which we are involved (partnerships, memberships and endorsements). We also publish our standpoints on public consultations on our website.
Does our tax policy ensure our company and our customers pay their fair share of tax?

We pay tax at regular rates in the countries where we operate as a financial services provider. We publish our global effective tax rate, which is currently 26 percent.
We need to attract and retain top talent and respond effectively to legitimate public concerns about remuneration in our industry. How do we strike the right balance on pay?

We have operations in over 40 countries and have more than 53,000 employees, of whom around 38,000 are based outside the Netherlands. To stay competitive, we need the best people. In determining compensation schemes, we take into account a range of factors that meet the long-term objectives of the company and its stakeholders. These factors differ for each role, line of business and country. Since 2008, we've kept our remuneration policies under constant review in the light of the ongoing review of the financial system, public debate and applicable regulatory developments.
The Annual Review 2014 continues with
4. Our strategy