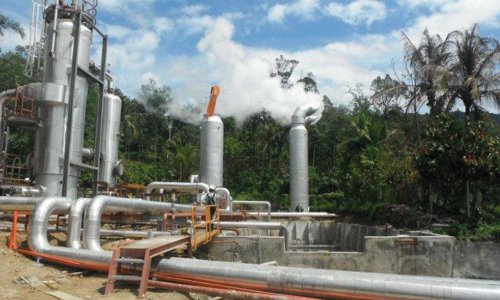 Clean energy from the earth
Construction of the world's largest single-contract geothermal project began in 2014 in Indonesia following the completion of a landmark USD 1.17 billion (EUR 0.9 billion) financing deal between energy consortium Sarulla Operations Limited and leading international lenders, including ING Bank.

Once in operation, the plant will make a significant contribution towards Indonesia's goal of increasing its share of renewable energy to around 23 percent of its total portfolio by 2025, and reducing greenhouse gas emissions by 26 percent by 2020. Sarulla is expected to save some 1.3 million tonnes of carbon dioxide emissions annually.

Geothermal energy is one of the most promising ways for the nation to achieve its sustainability goals. Indonesia's untapped resources in this area are estimated to equal some 29 GW, which represents a staggering 40 percent of the earth's entire geothermal resource base. Currently Indonesia relies on oil to produce electricity.

Geothermal energy is a renewable and clean resource and comes from the earth. Geothermal plants are often located in areas close to tectonic plates, where there are faults in the earth, and high temperature geothermal resources are located close to the surface.

The Sarulla project is situated in northern Sumatra, one of the major Indonesian islands, very close to one of the world's major tectonic plates. Sumatra is known for its volcanic activity.

"For ING Bank, this deal is a sound example of ING's support for clients that invest in electricity generation projects that contribute to a lower carbon economy. In the past few years there has been a shift in ING's portfolio of power plant financings towards more renewable energy projects", said Leo van Stijn, global head of Utilities, Power & Renewables at ING Structured Finance.

"ING has advised and arranged several power projects in Indonesia throughout the Asian and global financial crises," said Erwin Maspolim, ING's Asian head of Utilities & Infrastructure Finance. "Come rain or shine, we are there for our customers. That is part of what we bring to the table."

Conscious efforts also went into the project's design and implementation plan in order to mitigate the negative impact on surrounding communities, and ensuring adherence to environmental, health, safety and social guidelines from the IFC Performance Standards, the Equator Principles, the Japan Bank for International Cooperation and the Asian Development Bank.

The venture is widely regarded as a breakthrough project and could stoke renewed interest elsewhere in South East Asia in this largely underdeveloped segment of the energy sector.
Other Case Studies