Roland Boekhout
14 February 2019
...

min read
Listen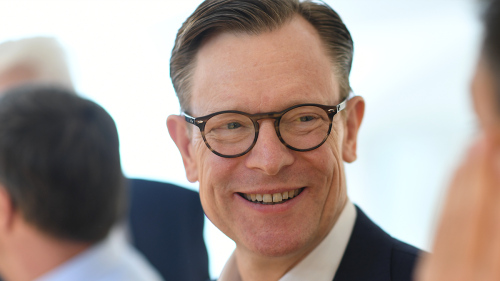 Roland Boekhout
Member Management Board Banking
Head of Market Leaders
| | |
| --- | --- |
| Born: | 1963 |
| Nationality: | Dutch |
Profile
Roland Boekhout has been a member of the Management Board Banking since 8 May 2017. He is also head of Market Leaders. As head of Market Leaders, he is responsible for ING Bank's operations in the Benelux, and the intended integration of ING's banking platform in the Netherlands and Belgium. In addition, he is responsible for Advanced Analytics.
Most important other ancillary positions
Member of the board of (Vorstandsmitglied) of the Deutsch-Niederländische Handelskammer
Member of the Euronext advisory board
Member of the advisory council of the Maatschappelijke Alliantie (the Netherlands)
Chairman of Stichting ING Nederland Fonds (foundation)
Member of the Management Board of the Nederlandse Vereniging van Banken (NVB)
Education
Roland Boekhout holds a master's degree in business economics from Erasmus University Rotterdam, the Netherlands.
Career
| | |
| --- | --- |
| 2017-present | Member Management Board Banking and Head of Market Leaders, Amsterdam |
| 2010-2017 | Regional Head ING Germany/Austria/Czech and CEO ING-Diba A.G., Frankfurt |
| 2008-2010 | CEO ING Commercial Banking Central and Eastern Europe (11 countries), Amsterdam |
| 2007-2008 | CEO RVS Insurance, Ede |
| 2004-2007 | Member of the Retail Board of ING Netherlands (banking and insurance with the labels ING Bank, Postbank and RVS) |
| 2001-2004 | Member of the Executive Board of ING Commercial America, Mexico City |
| 2000-2001 | CFO ING Insurance Mexico, Mexico City |
| 1997-2000 | Director Corporate Banking and later Member of the Executive Committee of ING Barings, Warsaw |
| 1993-1997 | Starting as associate and ending as vice-president in the Natural Resources Group of ING Capital Holdings, New York |
| 1991-1993 | Senior Credit Analyst at Risk Management of ING Bank International, Amsterdam |