ING Labs
ING Labs brings disruptive ideas to market by combining our knowledge and network with the knowledge and skills of others.
This is an External video.
This video is unavailable because of your cookie settings. Accept cookies and the video will be available.
Bringing disruptive ideas to market
We're always looking for new ways to do things faster, better, cheaper. To move out of our comfort zone, even beyond banking. So that we can better serve the needs of our customers with solutions that address their challenges.
What we do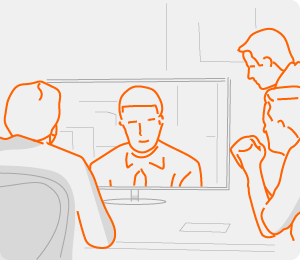 Global challenges need global solutions. That's why we collaborate with others, both on existing platforms and on new ones we have yet to create.

We explore, experiment and validate in a structured innovation process that includes governance and funding for our ventures and the partners we work with. These can be start-ups, scale-ups, researchers, entrepreneurs, or other corporates.

It's about mutually beneficial partnerships that turn ideas into scalable solutions.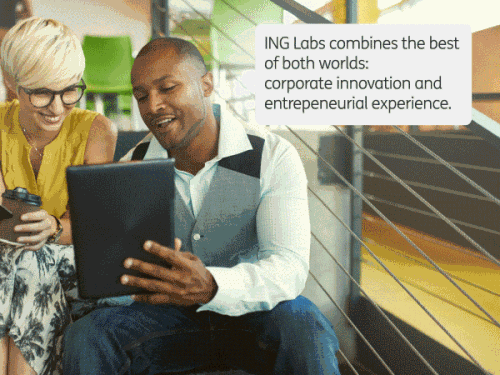 We're looking to partner with corporates and talented individuals with:
Entrepreneurial experience and thinking
Experience in platform business models and eco-system designs
What we focus on
We look for new opportunities to solve fundamentals problems and client needs in a number of areas. These are the value spaces we are looking to disrupt.

Our ING Labs in Amsterdam, Berlin, London, New York and Singapore are focused on specific value spaces that best match the local expertise and vibrant ecosystems in these locations.
Tradetech, global trade
Trade and logistics are the backbone of the economy. Advances such as the Internet of Things and distributed ledger technologies are enabling greater efficiency within the supply chain and disrupting trading and trade financing as we know it.
Singapore
Proptech, real estate
Technology is thrusting real estate into the future and changing the way we buy, sell, finance and manage property assets, leaving traditional practices obsolete.
London
Markets
Data is the key to opening up capital markets, making them more transparent and accessible and the distribution of those assets more fluent.


London
Housing
There's more to housing than just providing a mortgage. Think of all the related services home owners need. From finding a property to choosing an electricity provider, moving, renovating and re-selling. The whole home ownership experience in one place.
Amsterdam Berlin
Shopping
Buyers and sellers depend on banks to facilitate their transactions. We can use data from these transactions to predict consumer behaviour and preferences, giving us an attractive position in the shopping ecosystem to develop a shopping platform.
Berlin
ID / data storage
In the digital era data security is paramount. We're exploring new ways for customers to safely use and store their data and secure authentication to protect their identity.
Amsterdam
Mobility
Envision a digital assistant that offers real-time route planning, automatic usage-based payments and access to various modes of transport depending on the user's needs to create a seamless travel experience.
Amsterdam
Regtech, regulatory environment
A tsunami of new laws and regulations requires us to accelerate our ability to comply and pro-actively protect our customers and the financial system at large.
London
Wild cards
Interesting, unorthodox areas where we see opportunities to disrupt.
Amsterdam Berlin
How we work
Innovation starts with an understanding of the evolving user needs and translates it into an impactful solution. The outcome is never certain and the process requires persistence, empowerment and a clear approach. Ours is all about testing and validating our assumptions before we build. This ensures innovations are desirable, feasible and viable and we deliver impactful solutions.
Explore, validate, launch and scale

ING Labs seeks to create minimal viable companies. Once it's ready to scale, you can pitch for funding from ING Ventures and potentially other investors.

This is how we set you up for success:
Incentive schemes offering performance-linked remuneration and co-investment opportunities.
Coaching and support from dedicated professional teams
Committed business sponsors
Trainings and workshops
Access to key skills and knowledge about products, methods and regulations
Engaging work environment and fully equipped facilities
What it's like to work with us
This is an External video.
This video is unavailable because of your cookie settings. Accept cookies and the video will be available.
Contact us
I want to build a venture in ING Labs

I'm an entrepreneur, designer or developer looking to build a successful venture.
I want to partner with ING Labs

I'm a start-up, scale-up or corporate with a solution to a challenge in one of your focus areas.