Head office
ING is headquartered in Amsterdam in the Netherlands.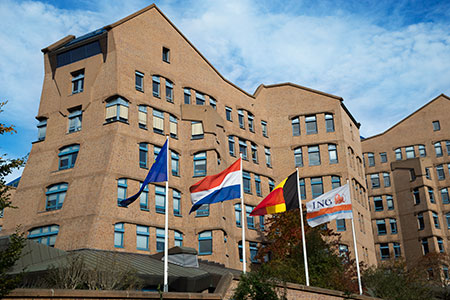 Amsterdamse Poort
Our corporate head office is currently situated in the heart of the Amsterdamse Poort shopping centre in south-east Amsterdam. Designed by Dutch architect Ton Alberts of the firm Alberts and Van Huut, the building's organic architecture is inspired by nature. An important requirement was that it would welcome employees and provide a pleasant working environment.

The building's unique design, with its 10 towers connected by a 350-metre long walkway, is characterised by sloping walls and the use of water, plants and natural materials. It also has three integrated gardens in English, Finnish and Japanese styles. The length of the indoor walkway and its abundance of natural light make it a perfect showcase for the many paintings and statues from ING's art collection.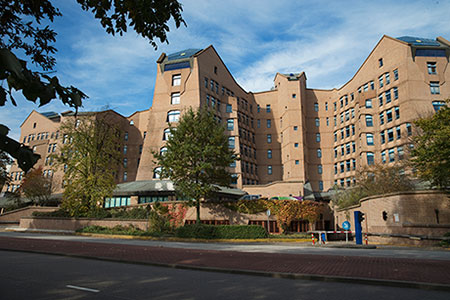 Campus
ING is building an innovation hub in south-east Amsterdam where businesses, academics and innovators can work together in an open and creative environment that stimulates invention. The campus will connect four existing buildings and a new one that is currently being constructed. The design of the new building has been awarded the highest sustainability rating. It comprises two office blocks connected by bridges and with an atrium in each where colleagues can meet and collaborate.

More than just the site of the bank's new global headquarters, the campus will be a community where people can work, live and socialise, with restaurants, sports facilities, labs and green spaces. It is being developed with the city of Amsterdam and the first occupants are expected to move into the new building in the second half of 2019. Development will continue until 2024.
Contact info
Head office ING Groep N.V.
Amsterdamse Poort
Bijlmerplein 888
1102 MG Amsterdam
The Netherlands
Mail address
ING Bank N.V.
P.O. Box 1800
1000 BV Amsterdam
The Netherlands
ING Groep N.V. is registered in Amsterdam.
Commercial Register no. 33231073