Head office
ING is a global financial institution with a strong European base, offering banking services through its operating company ING Bank. The head office of ING Group and ING Bank is located in the Amsterdamse Poort building in Amsterdam, the Netherlands.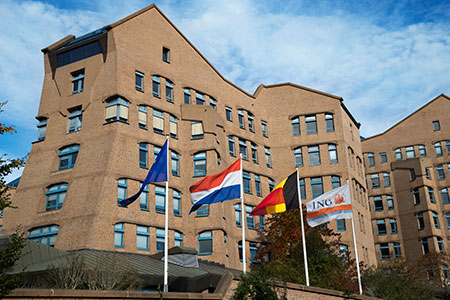 Amsterdamse Poort
The Amsterdamse Poort office building is situated in the heart of the Amsterdamse Poort shopping centre in south-east Amsterdam. The building was designed by the Amsterdam-based architect firm Alberts and Van Huut. Nature, which is linked to organic architecture, was the source of inspiration for the work of architect Ton Alberts.

An important requirement of the final design was that the building had to 'welcome' employees and provide a pleasant working environment. Part of the commission included to design a building that is efficient in technical and organisational respects. The human dimension was therefore most important. Because of its unique design, the building does not give the impression of being massive, despite the large number of people in it.

The building consists of ten towers, in two blocks of five, which are connected by a 350-metre long walkway that extends through the entire ten towers. The towers vary in height from three to six floors. The sloping walls of the towers are a characteristic feature of the building. To achieve the sloping walls, 600,000 bricks in 54 special sizes were made, in addition to the 2 million ordinary bricks used. The bricks vary in colour.

Water, plants and natural materials play an important role in the building. Thanks to its length and plenty of natural light, the indoor walkway is a perfect showcase for the many paintings and statues from ING's art collection, including integrated art, for example glass art.
There are three gardens, the English, Finnish and Japanese gardens, and they are part of the building's integrated art.