Sustainable Transitions
Sustainability for us is not just what we do as a business it is how we do it. We earn our licence to operate and the trust of our customers by conducting our business in a responsible way.
We also see sustainability as a source of competitive advantage. Being sustainable is not just about reducing our own footprint, it is in all the choices we make – as a lender, as an investor and through the services we offer our customers. We continue to believe that financial services play a significant role in creating a healthy and sustainable world. We can help facilitate the transition to a fairer, greener economy by financing projects that accelerate clients' sustainable transitions and supporting clients that contribute solutions to environmental and social challenges.
Environmental and social risk management
As an international financial institution, we are in a position to influence the economy through the ways we channel the flow of money entrusted to us. With this influence comes responsibility. For us, this means making choices about how, where and with whom we do business and being transparent about these transactions.
ING's environmental and social risk management framework applies to our global operations. However, our corporate clients often have more significant environmental and social impacts. Hence, we focus on assessments and promote ESR dialogue to support these clients in managing their environmental and social impacts. Corporate customers account for 30.0% of our total lending portfolio. We strengthened our support in 2014 by incorporating systematic and automated ESR assessments into mainstream data systems for client information and for lending data.
ESR Policies
Our financing and investment policies as well as our broader business ambitions are structured around strongly embedded social, ethical and environmental criteria. An extensive ESR policy framework is there to guide our decisions for client engagement and assessing finance proposals. An overview of our ESR policies (PDF 809 KB) is available for download. Other sustainability policies (PDF 172 KB) can be downloaded here.
An example of how our policies form part of our client engagement process:
ESR screening
ING's dedicated ESR department advises on potential environmental and social sensitivities at both the client and transaction level. Every client of ING is assessed against the requirements of the ESR Policy framework to ensure compliance before we do business. This is followed by continuous monitoring and evaluation once the business engagement is clinched. The process and governance model is explained in the image.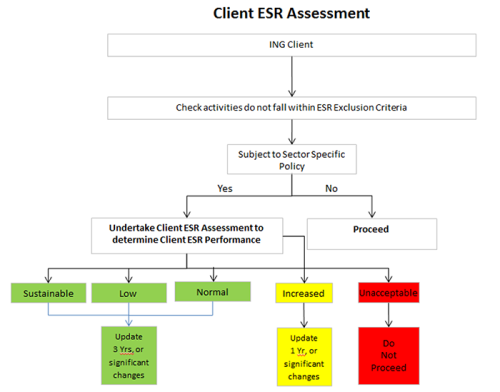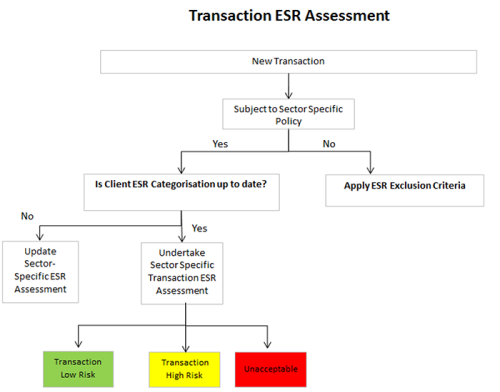 The outcome of the Client ESR Assessment together with the outcome of the Transaction ESR Assessment will determine the overall risk profile of the business engagement and approval process thereafter.

The table below illustrates the combinations and outcomes of the Client and transaction ESR Assessment:
Applying the Equator Principles (EP)
As an Equator Principles Financial Institution (EPFI) we do not provide project finance or project-related corporate loans to clients that are unable or choose not to comply with the principles. We also implement EP in our internal environmental and social policies, procedures and standards. These are embedded in our ESR Framework, and require involvement of the following three banking areas:
Front Office: The departments that originate transactions and have direct contact with clients or sponsors.
Risk Managers: The departments which provide control over Front Office activities and generally can sign off on the environmental and social impacts for 'Low Risk' EP deals i.e.
Environmental and Social Risk: The dedicated department within risk management that assesses environmental and social impacts associated with 'High Risk' transactions.
Read more about ING's approach to the Equator Principles and 2014 EPIII Reporting.
An example of how the Equator Principles form part of our transaction assessment:
Sustainable Transitions Financed
Sustainable Transitions Financed (STF) describes all the business that we do with clients that are environmental trend setters in their sectors and projects that provide sustainable solutions. At 1H 2016, our STF amounted to EUR 27.8 billion. This also includes the total amount of loans to our "environmental outperformers" which at 1H 2016 totaled EUR 20.5 billion.
Part of tour STF business is carried out by the Sustainable Finance team that drives and promotes sustainable business opportunities within ING. By focusing on clients and projects with outstanding sustainable practices, we strive to ensure a healthy and strong portfolio and support tomorrow's economy.
Our Groenbank ('Green bank') offers our corporate customers in the Netherlands advice and green banking products. ING Retail clients can also deposit their savings or buy notes in ING Groenbank. All projects financed by the Groenbank are certified by the Dutch government as environmentally friendly.
The energy sector is also central to a sustainable future. ING's Utilities, Power and Renewables team strives to bridge investment gaps in clean power technologies and innovation. We also call upon governments to create (tax and legal) incentives for long-term investments.
Sustainable assets under management
ING acts as a financier to a wide range of companies and projects and as a wealth manager for clients. Increasingly, we include sustainability criteria in the investment funds and portfolios offered and managed by ING Private Banking. This is both as a proactive offering to clients and on instruction from those who want to invest their funds sustainably.
How are we doing?
Aspiration
Our goal: we will increase our sustainable assets under management.
Our performance in 2015: Sustainable assets under management increased by more than EUR 1 billion to a total of EUR 2.5 billion.
Our ambition: We will increase our financing of sustainable transitions to EUR 35 bln by 2020.
Our performance at 1H 2016: EUR 27.8 billion sustainable transitions financed, an increase of 17% compared to 2015 YE.