Finalists New Talent Photography Award
20 augustus 2014
...

minuten lezen
luister
The New Talent Photography Award is an initiative of ING Private Banking in corporation with ING Art Management. It is set up to offer young talented graduates national as well as international exposure, including a broad audience to display their work. On Wednesday 9 July the five finalists were chosen. In the past weeks they had the opportunity to create their work around the theme "vooruitstrevend" (innovative).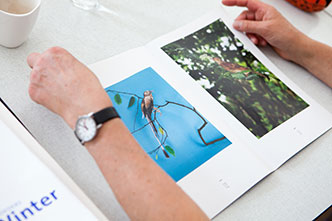 ING's contribution to the art industry
"In these times when the field of art is under pressure, it is important to support young talent," says Sanne ten Brink – head curator of ING Art Management. "ING's aim is to offer talented artists the opportunity to kick-start their career. Supporting these artists stretches beyond financial contributions, by means of purchasing works of art, to providing practical support to optimise their professional performance, which is perhaps even more important. ING is also investing in young photography talent in an effort to support The Netherlands leading role in photography."

These past few weeks the finalists were mentored by Rineke Dijkstra, one of the most successful Dutch photographers. From 18-21 September their final work will be exhibited in the Unseen Photo Fair, in Amsterdam. The winner will be announced on Thursday 18 September. He or she will be rewarded a mentor programme at Paris Photo, under the supervision of Marcel Feil, deputy director of Foam. There the work will be presented to international photography professionals.
The selected finalists
The finalists were nominated by a professional jury, consisting of ING's Karien van Gennip, Roos van Put, Marloes Krijnen and Frits Gierstberg. The selection was performed under the criteria authenticity, technical knowhow and originality.
The finalists this year are Maurice van Es (1984, Netherlands), Anne Geene (1983, Netherlands), Alexandra Hunts (1990, Ukraine), Lana Mesić (1987, Netherlands/Croatia) and Jan Rosseel (1979, Belgium).