New Luxembourg head office takes prime position
6 June 2017
A who's who of Luxembourg business and politics were on hand last Tuesday for the official opening the head office of ING in Luxembourg.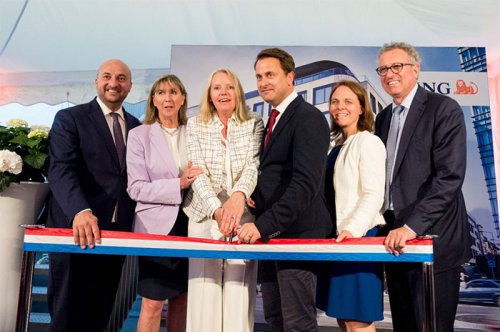 Prime Minister Xavier Bettel joined a number of other government officials and business representatives to open ING Lux House located in the heart of Luxembourg City.
Mr Bettel told an audience of more than 200 people that ING's innovative approach to business and banking was reflected in the country's own approach.
He later tweeted that ING Lux House "is a testament to ING's commitment to Luxembourg and the trust it places in our economy and our financial marketplace".
The new premises, which will bring together around 800 employees into one central building, are situated in front of Luxembourg's central train station. The state-of-the-art facilities promote an open and collaborative way of working and were designed following the principles of "activity-based working".
The six-floor office features open space, break-out rooms, concentration suites and themed coffee corners. A panoramic terrace, a restaurant, a cafeteria and an auditorium with 120 seats are also features of the new office.
ING is one of the first companies to move to the historic protected station area which is currently being refurbished. The district that will also soon host the Luxembourg House of Fintech.
Apart from government officials and the Executive Committee of ING in Luxembourg, Roland Boekhout, member of ING's MBB and head of Market Leaders was present as was former Luxembourg CEO Luc Verbeken, and former CFO Jean-Philippe Fohal.