Willem Sutherland appointed head of Wholesale Banking in Latin America
29 November 2017
Willem Sutherland has been appointed head of Wholesale Banking in Latin America, a region where the bank has been active for more than 30 years.
Sutherland, previously head of Infrastructure Finance in the Americas, will lead ING's expansion in the region, which is part of the bank's growth strategy for the Americas.

"Latin America is vital to ING's success in the Americas, and we are excited to announce that Willem will be overseeing our growth in the region," said Gerald Walker, head of ING in the Americas. "Over the past several years, Willem has been instrumental in the planning and execution of the expansion."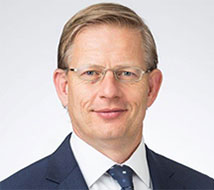 Sutherland took a central role in opening ING's office in Bogota earlier this year, which enabled the bank to start providing additional finance solutions next to its lending capabilities.
He will be supporting clients with ING's international expertise in sectors like infrastructure, power, food & agriculture, and telecom, media & technology.
In Latin America, ING Wholesale Banking has offices in Buenos Aires, Bogota, Mexico City, and São Paulo.