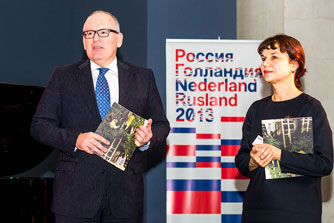 As from 11 November 2013, the Pushkin State Museum of Fine Arts will be showing works from the ING Collection of ING Group.
The exhibition the Magic of Dutch Realism features 41 masterpieces at the Moscow-based Pushkin State Museum of Fine Arts runs from 11 November 2013 to 26 January 2014, and has been organized by the Pushkin Museum, ING Art Management and ING Commercial Banking in Russia, as part of the Netherlands-Russia Year.
The selection ranges from the fathers of Magic Realism, Carel Willink, Wim Schuhmacher and Dick Ket, to the recent, obsessive self-portraits of Philip Akkerman.
Dutch artists of the 20th and 21st centuries
The selection will be represented by pictures by Dutch artists of the 20th and 21st centuries, who have carried on the national tradition of realistic painting, enriching its language with artistic techniques derived from surrealism. The underlying subject matter of the pictures, which can be notionally described by the term "magic realism", is built on the use of various allusions and images of the unconscious, with the viewer subconsciously hidden and symbolic subtexts.

The combination of traditional imagery and the artist's search for new means of creative expression in the inner world of the individual is one of the most important and fascinating developments in realistic art in the 20th century.
Sharing cultural heritage
We're proud to present this wonderful collection of more than 40 masterpieces," says Sanne ten Brink, head curator ING Collection at ING Art Management. "It's always a tremendous pleasure to share our cultural heritage with audiences abroad, and it's lovely to be in Russia with part of our collection, hosted by the Pushkin Museum of Fine Arts. We hope that many Russians will also enjoy these works from our Collection."