EUR 100 million green loan to Eneco
Last week, a contract was signed by which ING Groenbank, ASN Groenprojectenfonds and Triodos Groenfonds granted a EUR100 million green loan to Dutch energy company, Eneco.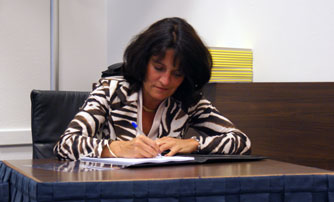 Head of Commercial Banking in the Netherlands, Annerie Vreugdenhil signed the contract on behalf of ING Groenbank saying – by entering into this agreement – that ING believes in sustainability. "We are showing our willingness to help finance sustainable projects," she said.
ING Groenbank coordinating bank
The EUR 100 million green loan is the largest green loan in Eneco's history. ING Groenbank acted as coordinating bank for the transaction.
Green Projects Facility
Green loans are loans provided at a lower interest rate and are specifically used to finance sustainable projects. This lower interest rate is made possible under the Dutch government's Green Projects Facility.
Innovative projects
Annerie Vreugdenhil said these are projects that ING is keen to support. "Sustainable projects tend to be projects that benefit various businesses – from small SMEs to large companies. "In that respect we are not only financing innovative projects but also promoting economic growth. And so I am pleased to hear that state secretary Mansveld also believes in the scheme and wants it to continue."

"This past year," Vreugdenhil continued, "we here at ING Groenbank have invested a great deal in sustainability. And we want to continue along this path!"
Connect
State secretary Wilma Mansveld from the Ministry of Infrastructure and the Environment told those present at the at the signing that her role was to "connect and to remove hurdles."
Invest much more
Eneco CFO Guido Dubbeld said "we want to invest much more in sustainable projects through these green loans."

"What kind of projects could these be? A good example is the wind farm at the Fujifilm business park in Tilburg (the Netherlands).

"The energy that is generated there is re-used in the production process. And the heat/cold storage unit for the new Hoog Dalem residential area in Gorinchem (the Netherlands) is another typical example of taking sustainability to the customer," he concluded.