TEFAF 2015
05 March 2015
...

min read
Listen
TEFAF, the world's leading art fair, will open its doors from 13 to 22 March. And ING will be there again!
TEFAF will open its doors for the 27th consecutive time as 275 of the world's leading galleries from 20 countries present some 30,000 objects ranging from Classical Antiquity and Old Masters to contemporary art and design and almost everything in between.
"And this year," says Sanne ten Brink, head curator of the ING Collection, "we will be present on the fair floor itself."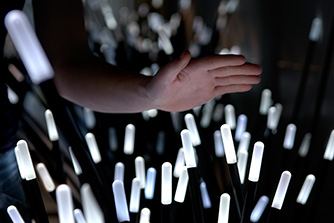 "We are proud to exhibit DUNE at TEFAF 2015," Sanne continues. "DUNE is an interactive work of art by Studio Roosegaarde, one which literally brings light and motion to the ING Cube." Light is still an important source of inspiration– think typical Dutch skies – for many artists today, just like it was back in the 17th century for Rembrandt van Rijn, whose innovative use of light can be seen in the candle-lit rooms in his paintings.
About DUNE- a sea of dancing lights
DUNE is an interactive landscape that reacts to touch, motion and sound. The luminescent fibres, which register the movement of passing visitors, combine nature and technology in perfect harmony. This is what Studio Roosegaarde calls 'techno poetry'. The landscape creates a peaceful sight – at least at first glance – as the ends of the stalks cast a pleasant glow in the dark surroundings.

The pattern of light grows more intense as people move closer. Just one touch and a wave of light emerges. The fibres make a soft cricket sound as they tap together; one clap of the observer's hands, however, and the once calm landscape transforms into a sea of dancing lights.
Personal advice
TEFAF's ground-breaking vetting system assures you of the highest quality of objects on offer.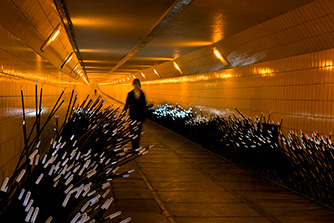 Ellen Bertrams, curator of the ING Collection and part of Sanne's team, will also be present at TEFAF. Ellen: "Should you require ING's art and financial expertise for a potential acquisition, we will be available for personal advice during the whole fair. I look forward to meeting you and will be happy to provide assistance."