Teamwork… 20 years on!
10 August 2017
...

min read
Listen
10 August 2017
More and more these days we're asked to collaborate. But what exactly is collaboration? And is it always a good thing? London Business School Associate Professor Kathleen O'Connor, currently training up to 5,000 ING managers in the Think Forward Leadership Experience, has the answers.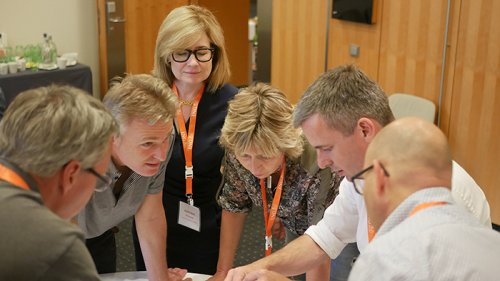 Isn't collaboration a bit of a buzzword?
Sure. Twenty years ago my clients were asking me to teach them about teamwork. Today we say collaboration.

It's the word of the day for being able to work with other people who have different perspectives and strong views. That's never going to change. We have to harness this potential and move it towards shared goals.
There's an automatic assumption that collaboration is positive. Are all collaborations good?
No, I think many have the potential to be good. But whether they live up to that potential that's the question. There are things you can do to create an environment where collaboration is likely to pay off, with great decisions or better outcomes. They don't have to be revolutionary changes, but rather small tweaks.

In the sessions we do talk about things that didn't go quite as well. These are often things like a mismatch in goals or a mismatch in talent to task. Another obstacle is the lack of time given over to laying the groundwork for collaboration.

Is consensus thinking a good thing?
No! You have to learn the skill of how to argue and challenge without pushing the other person away. Building relations is important.

We don't want personality conflicts or bad feelings, clicks and schisms and that kind of thing. Those are not good for the group. We do want to [be able to] voice disagreements. If your collaborations are conflict free, then I'd worry about whether you're really pushing as hard as you can to reach better quality ideas.
Collaboration seems like it should be all consensus, and it's not. Sometimes you're not going to get your way. Tweet this
Collaborating is hard work and it's not always efficient. It takes more time to collaborate. You have to listen and ask questions. But there's no doubt it is more effective and leads to better decisions.
What are your worst examples of where it's gone wrong?
Oh, there are so many (outside of ING)! In some executive teams the CEO dominates the conversation and doesn't leave enough space for others. That's a problem. One in particular was very big figure, a public figure, who needed to listen more and take more into account. Every meeting was a stage for him.

There are others where the CEO is willing to step back, but then winds up deferring to one or two people designated as the smartest in the room. That's also a problem.

Anything where you don't elicit perspectives and honest, candid feedback from the experts in the room, you have a problem.
So what are the benefits of collaboration if it's done properly?
That's so easy! There are decades of research on this. Some are just outcome-driven. Teams reach better decisions. They're able to consider a divergent range of perspectives.

Every one of us has blind spots. It's very in vogue right now to talk about unconscious bias. I can't fix my unconscious bias, but two or three people with different unconscious biases can check each other. It's a lovely way to make decisions and avoid group think if it's done right.

Fostering a sense of inclusion is important. The only way to do this is to include people in decisions, genuinely and with real energy and a willingness to compromise and be wrong. Because we don't always get it right.

Sometimes it's just worth having a conversation. A way to educate people to sit around the table and share their perspectives.
What advice would you give people to be better collaborators?
We talk about psychological safety. Meaning that we can trust the people around us. We can say things that are little bit crazy, maybe a little bit out of left field. And it's OK. It's going to be accepted as a worthwhile perspective.

So find people who create that. And create it for other people. Make it safe for them. Build the trust necessary. Collaboration without psychological safety and without trust is never going to happen.
What's your best example of collaboration going well?
I'm not sure it's the best, but consulting firms do a great job. For many of them the motto is: It's better to fail as a team than to succeed alone. Tweet this
They work together, work long hours. They celebrate their victories together, commiserate their losses and don't start pointing fingers.

Great sports teams have that quality as well. There's a shared sense of responsibility. Everyone is trying to make a great outcome and is very clear what they're trying to get out of it.

What interferes with team performances? You're not dependable. You say you're going to do things and don't do them. You're free-riding off the team. No one likes that, right?

Any time you get a group of people who feel an obligation to each other and have a passion for what they're working on, you're going to get great collaboration. Teams fall apart when they start to point fingers at each other. You see it sometimes in football, when the goalkeeper lets in a goal. It's not really the goalkeepers fault, the whole defence fell apart on that one. But when the defence comes over and pats the keeper on the shoulder, that's a nice team. They support each other. That makes a huge difference.
Related stories