Palm oil
Palm oil is used in a range of products, from toothpaste, soap, cosmetics and shampoo to crisps and biscuits. Its wide use presents some environmental challenges.
The fact that palm oil can be used in so many things, and that the demand for those things is increasing, leads to social and environmental challenges in the countries where its trees are grown. For example, deforestation, animal endangerment and the displacement of the local population. On the other hand, it is generally accepted that other types of oil crops need more land (in some cases up to seven to nine times as much). As a result, replacing oil palms with another type of oil crop would increase the amount of land needed to meet the demand.

We do not finance the actual palm oil plantations themselves. We do provide general finance or trade finance to a very select group of palm oil companies. In general our clients active in the palm oil business have a diversified agribusiness portfolio. In total we finance less than ten clients that earn 10% or more from palm-oil-plantation-related activities. We do not currently foresee growing the number of palm oil companies we are willing to finance. Mainly because we prefer to focus on improvements within our existing clients' businesses by means of engagement. After all, these are the bigger players in the market and therefore those with the biggest potential to make a difference. More than 85% of our clients currently have a "No Deforestation, No Peat, No Exploitations" policy in place. Furthermore all of them have committed to 100% RSPO certification by 2030, with some of them committing as early as 2020.

We believe in addressing potential problems. Even though we can't always prevent them, we can at least discuss them further and find solutions based on our environmental and social risk policies (including the Equator Principles and the IFC Performance Standards). We've been a member of the not-for-profit Roundtable on Sustainable Palm Oil (RSPO) since August 2015 to improve our understanding of the sector and support clients (traders, plantation or retailer) in facing the challenges and opportunities that dealing with palm oil commodities comprises.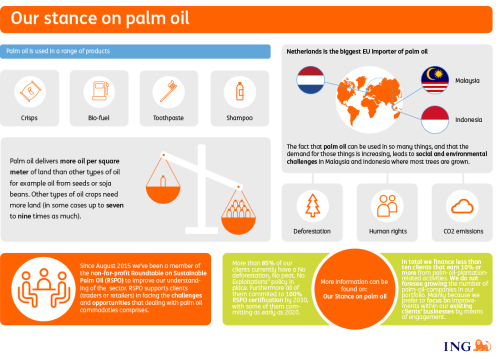 ---
You might also be interested in:
ING in the media on this topic
Our policies
From theory to practice (examples)
What do independent specialists say about sustainability and ING?