Tanate Phutrakul
01 July 2020
...

min read
Listen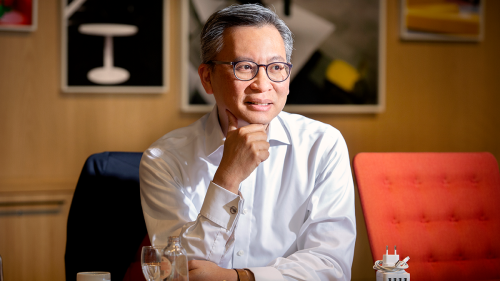 Tanate Phutrakul
Member and CFO Executive Board ING Group
Member and CFO Management Board Banking
| | |
| --- | --- |
| Born: | 1965 |
| Nationality: | Thai |
Profile
Tanate Phutrakul was appointed as chief financial officer of ING Groep N.V. and ING Bank N.V. and member of the Management Board Banking of ING Bank on 7 February 2019. Subsequently, Tanate Phutrakul was appointed as a member of the Executive Board of ING Groep N.V. at the Annual General Meeting on 23 April 2019.

Tanate Phutrakul is responsible for ING's financial departments, Group Treasury (including capital management activities), Investor Relations, Group Research and Regulatory & International Affairs.

The selection process for a new chief risk officer is underway. Until the appointment of a successor, Tanate Phutrakul, CFO of ING, will temporarily assume the responsibility for risk on the Executive Board. Karst Jan Wolters, currently chief risk officer of ING Wholesale Banking, will perform the day-to-day risk management activities on an interim basis. Karst Jan Wolters reports to Tanate Phutrakul. Further announcements on the CRO succession process will be made as and when appropriate.
Most important other ancillary positions
Non-executive member of the board of ING Belgium S.A.
Education
Tanate Phutrakul holds a master's degree in Engineering from Imperial College, University of London, and an MBA from Harvard Business School.
Career
| | |
| --- | --- |
| 2019-present | CFO of ING Groep N.V. and ING Bank N.V. and member of the Management Board Banking, Amsterdam |
| 2018-2019 | ING Group controller, Amsterdam |
| 2015-2018 | CFO of ING in Belgium, Brussels |
| 2012-2014 | CFO of Retail Banking International Division (C&G), ING |
| 2008-2012 | CFO of Operations/IT banking division, ING |
| 2003-2008 | Outside of ING: various positions in the Thai banking sector, ultimately as CFO at TMB Bank Thailand in the period 2006-2008 |
| 1998-2003 | Managing director of ING Barings Securities Thailand |
| 1991-1998 | Assistant managing director at Finance One PLC |