ING global accessibility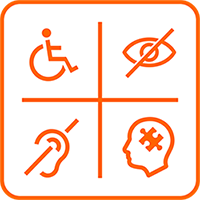 Accessibility for all
Accessibility, or the ability to access things, is a prerequisite to managing one's life. That extends to banks and financial institutions where being self-reliant and managing your financial matters. ING wants to be an accessible bank for everyone, including people with disabilities whether that means sight, hearing physical disabilities or cognitive/learning disabilities.
Why ING is committed to accessibility
Not only is providing suitable access the right thing to do for customers, businesses these days are also viewed by their performance and social responsibility. ING Bank is no different. We serve over 39 million customers and employ over 55,000 people. With 20 percent of the world's population experiencing a disability of some description, ING estimates that roughly 10 percent of our primary customers have disabilities.

International reports show that people with disabilities remain the biggest underbanked (less access to financial services as bank accounts, loans, mortgages, etc.) minority in the financial sector. In response to this, ING introduced a Global Accessibility Office to work with ING entities globally to ensure that customers and employees of all abilities are welcomed.

ING's Global Accessibility Office encourages inclusive and accessible product and service development. The goal is to provide accessible financial services for people of all abilities. We call this the ING Accessibility Journey. The Accessibility Journey includes the development of a strategy and embedding accessibility governance into customer processes.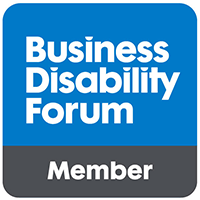 An inclusive company
ING recognises the need for disability-Inclusion because people with disabilities are in the best position to know about the needs and requirements of customers with disabilities.

In pursuit of our goals, ING is working with local interest groups. Next to this ING is an active member of Business Disability Forum (BDF) Global Taskforce since 2017.
Social responsibility
Accessibility to financial services not only supports the self-reliance of people with disabilities but also creates opportunities to attract a wider pool of talents of all abilities for ING. The purpose of ING Accessibility Journey is to 'leave no one behind' which is consistent with the global disability community's wish to be included and to gain equal opportunities in life and business!
Accessibility per country:
ING offers a variety of products and services in the countries it operates. These services differ per country. Select your country and you will be directed to the products and services in your country.
Accessibility @ING global websites
ING is working on improving the accessibility of products and services. Below are some examples of ING's accessibility efforts:
Sign language support in Poland
ING in Poland provides services in the Polish sign language with translators online - via a video call.
This service is available in 392 branches throughout Poland, Monday to Friday from 8am to 6pm.

Initiatives in the Netherlands
ING's mobile banking app has speech software which is more convenient for people who experience blindness or a visual disability. Read out button on ING newsroom articles.

Around 870 cash machines in the Netherlands are also equipped with a speech function. The speech function is activated by plugging headphones or ear plugs into the cash machine.
Phone banking Down Under
In Australia, customers that have a speech or hearing disability, can call ING in Australia via the National Relay Service. It's confidential and secure.

Aside from these country initiatives ING Group also have a read-out button on job vacancy descriptions, use subtitles on corporate video's and are increasing use of alternative text supporting pictures and icons on ING websites.