ING wins three awards from FT's The Banker: Best Bank in Belgium, in the Netherlands and in Poland
03 December 2015
...

min read
Listen
ING has been awarded with three awards by FT's The Banker: Best Bank of the Netherlands 2015, Best Bank of Belgium 2015 and ING Bank Śląski was awarded as Best Bank of Poland 2015.
Innovation key to success

The award ceremony was held yesterday evening, 2 December in London, attended by more than 300 senior managers from over 120 banks across the globe. The jury praised the various innovative products that ING had introduced in all three countries. They praised ING Belgium's biometrics-ready mobile application as well as ING's Smart Banking app, also available on a smartwatch, "balance offline" which offers customers the possibility to check their balance in real time without having to log on.
Making things easier for clients

For the Netherlands, the jury mentioned 'InsideBusiness', ING Commercial Banking's online and mobile gateway for corporate clients. Inside Business simplifies how clients do business with ING by offering easy access to a range of products and services. The platform was introduced in the Netherlands in 2014. Eventually, all of ING's corporate clients (also in other European countries), will be able to view and manage the products and services they have with ING on InsideBusiness.
The Banker also highlighted ING Group's successful divestment of NN Group through an initial public offering in 2014, as well as the reinstatement of dividends and the final repayment to the Dutch State.
Leading in mobile in Poland

In addition to ING Bank Śląski's strong set of financial results, The Banker was also impressed by the innovations introduced in the area of mobile banking. Both in 2014 and 2015, ING Bank Śląski introduced various innovative smartphone applications with functionalities such as receipt storage, the splitting of bills as well as contact-less mobile payment solutions.
On the right track
The three winning ING countries were represented at the awards ceremony by Maurits Duynstee (Head of Corporate Clients and Corporate Finance Netherlands) for the Netherlands, Emmanuel Verhoosel (Head of Commercial Banking Belgium) for Belgium and Małgorzata Kołakowska (CEO of ING Bank Śląski).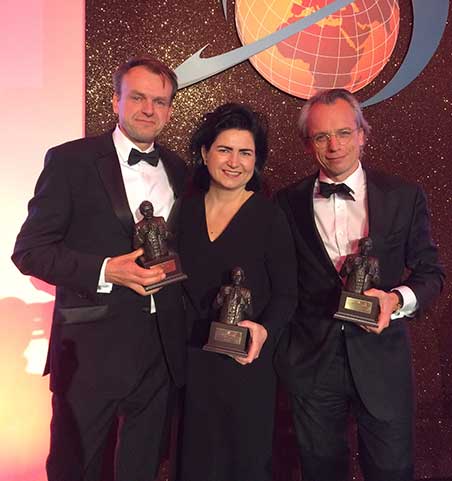 "I think that I speak on behalf of all three counties when I say that we are particularly proud of these awards as it is a recognition that we are on the right track with our strategy of creating a differentiating customer experience and using innovation to deliver on this," said Małgorzata Kołakowska .
"It encourages us and our colleagues, who have worked hard to contribute to this success, to continue bringing the best service and innovation to customers".
About The Banker
The Banker, part of the FT Group, has been providing global financial intelligence since 1926. The Banker selects one winning bank for each of the 120 countries judges. Over 1,000 applications are collected and judges select winning banks based on which ones they believe have made the most progress over the past 12 months.