Balancing human rights in our operations
03 April 2018
...

min read
3 April 2018
When we choose whether to fund companies and projects, it's ING's strict environmental and social framework that guides us.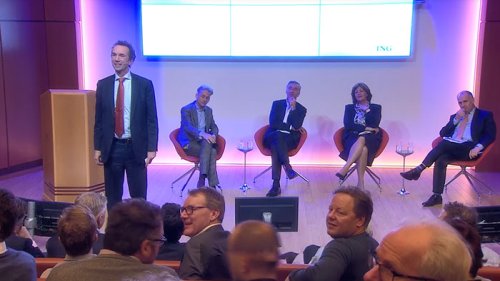 But what about our own operations? More specifically, how does ING fulfil our responsibilities to respect human rights in all the countries we're active in?

There are many things to balance – international guidelines, ING's own Orange Code, our local employees' safety, our support of the local economy and our own long-term interests. How do we do this if human rights are at stake in one of the countries we operate in?

This question was brought to ING's Management Board Banking in 2017, and the framework developed in response was presented to employees, government officials and Amnesty International in February 2018. The seminar, held in Amsterdam, was organised by ING and our Dutch Central Works Council.

Can ING be more open?
"What does ING do when it comes to human rights and its international activities," asked Edward Boeijenga, chairman of the Dutch Works Council. "Can ING be more open about it, both inside and outside the bank? I hope so."

"I think it's really good to discuss this with each other," said ING Vice-Chairman and Chief Financial Officer Koos Timmermans at the event. "Now that we have this framework we need to disclose it more – why are we in a certain country, what are our considerations, how did we reach that decision."

As outlined in the framework, our approach looks at many relevant areas when deciding whether to maintain, expand or to start activities (sourcing or otherwise) in specific countries.

First, is it legal? Even if it is, we always check whether it's in line with our own behavioural code and policies (compliance). Does it adhere to the same requirements we expect from clients (risk)? Is it in line with our own sustainability policies and what are the reputation risks (sustainability and communications)?

"By including this framework in our processes, we ensure that we can continuously monitor the most critical countries, and that we can escalate to relevant departments, quickly and when necessary," Koos said.
Applying the framework
Besides the content of the framework, the way we apply it is also important. It's used in three general situations: when we consider entering and/or expanding in a country; in case of special circumstances such as an earthquake or terrorist attacks with potential impact on employees; and during an annual human rights check for high-risk countries.

Just like with the way ING approaches sustainability in general, a potential human rights issue doesn't mean we exit a country immediately.

"If you look at how we integrate sustainability at ING, we prefer to use a model where we enter a dialogue with clients rather than exclude them altogether," said Leon Wijnands, global Sustainability head, at the event. "That's a policy that's not always easy to explain, let alone easy to implement. Ruling out clients is easier than trying to help clients improve."
Positive reaction
Those present at the event were positive about ING's approach. Wilco de Jonge, director Human rights policies at Amnesty International in the Netherlands, outlined the three things that they expect from companies.

"One, that you don't cause or contribute to causing any violations. Second, that you actively try to prevent violations, or reduce them if you're linked to any via your clients. And third, that you protect your own employees," he said at the seminar.

Protecting our employees is of paramount importance, Koos agreed. "The question is, if an organisation leaves a country, does that make it more or less safe for its employees?" he said.

The event showed that employees want to be proactively informed about ING's considerations when being involved in countries where human rights are a hot topic. This article is one step in that direction.