Green power for the Philippines
09 March 2015
...

min read
The 150-MW Burgos Wind Project heralds a new chapter in the Philippines' development of renewable energy projects.
The ground-breaking project was sponsored by the Energy Development Corporation (EDC) and on completion was one of the first wind farm projects in the country under the feed-in-tariff regime.

Project Finance International (PFI) has named this project the Asia-Pacific Renewables Deal of the Year.

The project achieved financial close despite the absence of an off-take agreement. It is EDC's first ever wind energy project and its largest investment to date, reaching USD450 million, of which USD 315 million was project financing raised by a syndicate of banks, including ING.
Major leap
"This project represents a major leap forward for the Philippines' push towards renewable energy development," says Leo van Stijn, ING's global head for Utilities & Infra Finance. "Working with a key relationship customer and applying our sector expertise and knowledge of the Philippine electricity market presented a winning combination for the bank."

Burgos will provide 370 GWh of electricity to power approximately two million households and will replace about 200,000 tons of carbon emissions annually. In doing so, it provides much-needed capacity to the Philippines' energy sector, and supports its drive to increase renewable energy supplies. Demand for electricity in the Philippines is expected to grow steadily in the coming years.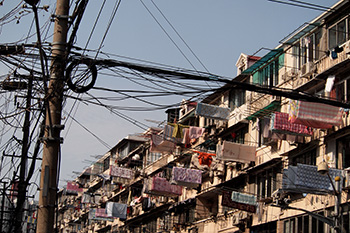 The Burgos Wind Project bears witness to ING's growing focus on renewable energy and sustainable businesses in the region
- Erwin Maspolim
Growing focus on renewable energy
"Burgos demonstrates that international banks are prepared to take long-term risks in the Philippines and it is widely considered to be a model for future non-recourse project financed wind farm transactions in the country," explains Erwin O. Avante, EDC's vice president Finance.

Erwin Maspolim, head of ING Asia's Utilities & Infra Finance team, added: "The Burgos Wind Project bears witness to ING's growing focus on renewable energy and sustainable businesses in the region. We are pleased to have been able to support our valued customer in this landmark undertaking."
Expert in renewable energy project financing
ING was the mandated lead arranger of one of the two tranches of the loan assembled by the lenders. "ING is an expert in the field of renewable energy project financing. They understand the vital aspects of due diligence and documentation and know the right buttons to push to ensure a successful transaction," says Avante.

EDC and ING enjoy a longstanding working relationship. ING worked extensively on fund-raising activities with its parent companies, First Gen and First Philippine Holdings Corporation, and also acted as financial advisor to EDC's former parent company, Philippine National Oil Company.