ING again recognised as Top Employer and Great Place to Work
04 April 2017
...

min read
4 April 2017
ING has again been recognised as one of the world's leading employers gaining external recognition from both the Top Employers Institute and Great Place to Work.
In February, the Bank gained Top Employer status for Europe and individual recognition in Belgium, Italy, Poland, Spain and the United Kingdom.

In Germany, ING was last month ranked as the third best employer in the category 2,001 to 5,000 employees by Great Place to Work, while ING-owned mortgage broking company, Interhyp was 12th ranked employer in the category 501 to 2000 employees.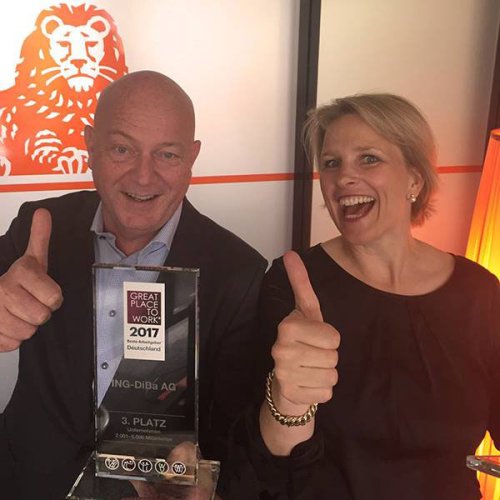 The Top Employers Institute is an independent organisation that measures employee offerings against an international standard. Every year, the institute researches organisations around the globe and certifies those that meet their high standards on topics as diverse as talent strategy, onboarding, learning and development and culture.

Similarly, the Great Place to Work institute has been ranking Germany's best employers annually for 15 years. The competition concentrates on quality and attractiveness as an employer as well as on a company-oriented corporate culture.

Chief HR Officer Hein Knaapen welcomed the recognition.

"We all know that ING is going through a transformation and that can be difficult at times from a people perspective. But it's great to see that despite these challenges, all the excellent things we are doing to be a top employer are getting noticed and making a difference.

"I'm delighted that ING continues to be recognised as a Top Employer and a Great Place to Work externally," he said.

ING businesses have been no stranger to Top Employer status over the years with ING in Belgium, for instance, recognised for the 12th successive year and ING in Poland for the eighth time. For ING in Germany it is the 11th time they have featured in the top-100 Great Place to Working rankings.

Meanwhile, ING Services Polska has been awarded the "Best IT workplace in Poland 2016" by Computerworld magazine, based on a survey of around 3,500 respondents.