ING awarded Western Europe's Best Digital Bank
07 July 2016
...

min read
7 July 2016
ING's focus on innovation in banking has been recognised in an award for Western Europe's Best Digital Bank by Euromoney magazine.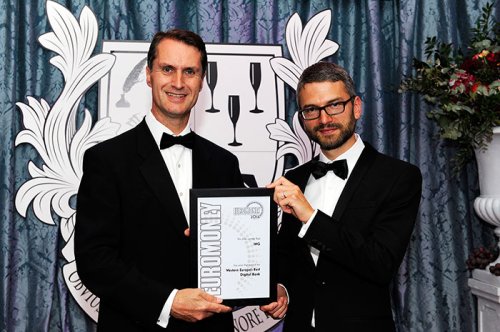 ING received the accolade at the 25th anniversary of Euromoney's Awards for Excellence 2016 in London yesterday evening.
In making the award, Euromoney referred to ING's track record in digitisation in banking.
"Since the first days of ING Direct in the 1990s, ING has been at the forefront of digital banking, giving a depth of experience that is the envy of other banks. It has unrelentingly shifted to digital channels in Belgium and the Netherlands and is one of the largest banks in Germany, despite its lack of a branch network," the magazine said.
"Unlike some banks, ING's investments in digital banking are yielding very real results. It rightly recognises its advance in this area as its most valuable differentiating factor and it focuses obsessively on building that advantage."
ING CEO Ralph Hamers said: "It is an honour to receive this prestigious award. It recognises ING's efforts in transforming our business to meet customers evolving needs and is great recognition of the hard work and collaboration of so many colleagues across the firm."
Next generation digital bank
In the past two years, ING has stepped up the pace of new initiatives aimed at making banking easier through innovation and digitisation.
In many countries digital channels now account for more than 90% of customer contact with ING. Of this number, digital channels are the only means of contact for 70%. It is the reason ING is pursuing a strategy of becoming a next generation digital bank.
Innovations
Around the beginning of 2016, ING launched Twyp, a peer-to-peer payment app in both Spain and the Netherlands. Twyp, which stands for "the way you pay", allows consumers to pay small amounts to contacts on their mobile devices in just a few seconds.
ING also introduced contactless smartphone payments in the Netherlands, making it easier for customers to pay in shops and bars. In addition, we've joined R3 as the only Dutch bank in a consortium of more than 40 leading global banks collaboratively exploring ways to use blockchain technology in financial markets.
Partnering with fintechs
ING is also increasingly partnering with fintechs. Today we are working with more than 45 organisations on a wide range of innovative projects.
In 2015, ING invested in Orange Growth Capital, a financial technology investment firm, and two promising platforms: US-based Kabbage and China-based WeLab, both of which specialise in instant lending.
Innovation at ING, either through internal initiatives or via external partnerships is focused on bringing better solutions to customers faster.