ING in Poland named 'Institution of the year'
13 April 2022
...

min read
Listen
When it comes to banking awards, those that are based on customer or client feedback are the most prestigious.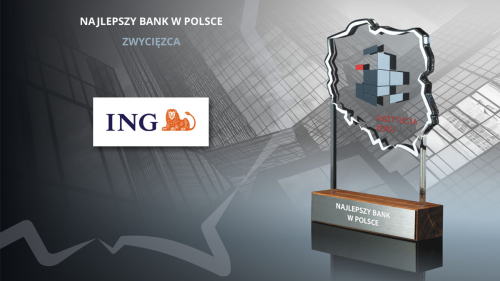 This is certainly the case for Poland's 'Institution of the year' ranking list, prepared by mojebankowanie.pl, which recognises the Polish financial sector's approach to customer service.

Compiled for the last six years, the awards are based on interactions with mystery clients. They are considered the most important and reliable customer experience rankings for banks.

As a result of those interactions, ING in Poland has been named the 'Institution of the year' and ranked number-one in four categories: 'Best bank in Poland', 'Best mobile app', 'Best online banking' and 'Best mortgage service'.
Pride
The honour prompted ING in Poland CEO Brunon Bartkiewicz to say how proud he was of the recognition.

"We consistently concentrate on the needs of customers and clients, provide innovative products and services and strive to ensure top quality service.

"Such a distinction is great recognition for our team's hard work and engagement," he said.

Apart from topping the ranking in five areas, ING in Poland improved its position in several other categories including Best in-branch service, Best direct channel service and Best remote account opening process.

Last year, ING in Poland was named 'Best bank' by financial newspaper Dziennik Gazeta Prawna and PwC, taking first place in the Polish 'Banking Stars 2021' ranking. It was the sixth consecutive year ING had won the award.
Related stories