ING named Global Bank of the Year
08 December 2016
...

min read
8 December 2016
ING has been awarded as the best bank in the world. We won a total of four awards at The Banker's Best Bank Awards 2016. Besides Global Bank of the Year, we were named Best Bank of the year 2016 in the Netherlands, Belgium, and Western Europe.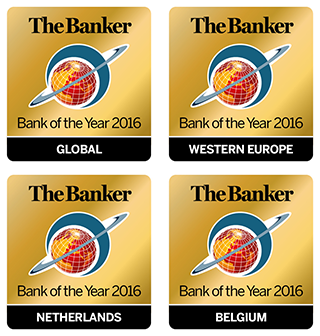 Financial Times' The Banker hosted the annual Best Bank Awards 2016 in London, on 7 December. Awards were given in various areas. ING has previously won awards for Best Bank in the Netherlands, Belgium, Poland, and Western Europe. And now, we can add the highly prestigious award for Best Global Bank to the list!

Bank Vice-Chairman Koos Timmermans, who was present at the ceremony, said the awards recognise ING as a leading bank that is on the right track in today's fast changing world. He proudly accepted the trophies:

"I am honoured to accept these awards on behalf of all of my colleagues," Timmermans said. "They are the result of the hard work of all our 52,000 employees across the globe. These awards are a real boost to keep innovating and improving to deliver our customers a differentiating experience."
A winning combination
The jury reviewed over 1,000 applications from all over the world on the banks' results, performance, and growth over the last year. All banks had to submit lots of data on their financial performance, technology, innovation and marketing initiatives.

In their verdict, The Banker stated: "Congratulations to ING for being our global and Western European bank of the year 2016. ING has presented a healthy set of results together with a leading strategy of investment in technology, innovation and focus on customer service. It's definitely a winning combination."
About The Banker
The Banker is part of the Financial Times and has been providing global financial intelligence since 1926. Their publications provide a key source of data and analysis in the industry, functioning as a widely used index of global banking.
---