ING launches international campaign "World, here I come!" at Amsterdam Airport Schiphol
Amsterdam, 9 januari 2015

Today, ING launches an international marketing campaign at Amsterdam Airport Schiphol. The campaign underscores ING Group's new global positioning since it launched its Think Forward strategy in March 2014.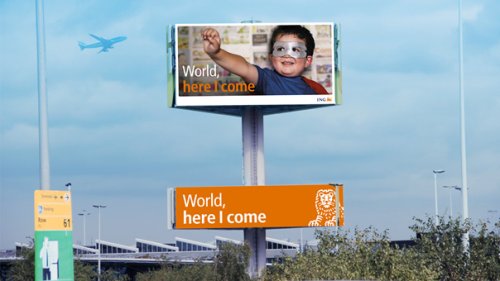 World, here I come!
ING believes that banking is about empowering people and organisations to do what they do best and to realise their own vision for a better future – however modest or grand.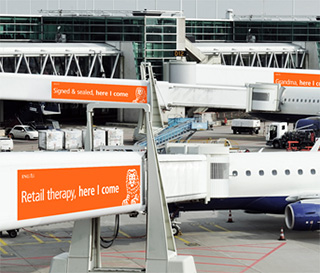 Nanne Bos, Head of Global Brand Management ING Group: "With this campaign we want to demonstrate ING's purpose of empowering people to stay a step ahead in life and in business realistically. "World, here I come" is about confidence, about reaching for your goals however big or small. There is no better place to address this theme than at Amsterdam Airport Schiphol, a place where millions of people are on their way to their next destination, reaching for their goals."

Like there are many different destinations to fly to from Schiphol, there are many different people with many different goals in life and business. ING is there to support. Therefore, there will be many variations to the theme ranging from "Mum's cooking, here I come" to "Uncharted territory, here I come". These messages will be visible on all the air bridges at Schiphol airport. ING and Schiphol share a broad international scope: ING serves more than 30 million customers in over 40 countries, while in 2014 a record number of some 55 million passengers travelled via Amsterdam Airport Schiphol to and from more than 300 destinations. This makes Schiphol, which is the fourth busiest European airport by number of passengers, the launch pad into the world for all travellers either business or leisure.

"We are extremely pleased to have found a new partner in ING. ING possesses similar brand values as Amsterdam Airport Schiphol. Besides the exclusive right for branding on the 93 air bridges and 25 gate houses our cooperation is unique for the joint approach to develop shared services for passengers, says Gary Mey, Schiphol Media Sales Director.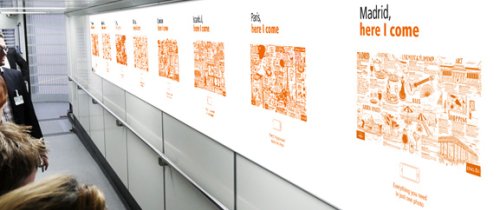 'Cities in a click'
As part of the campaign, there will be several advertisements and activations across Amsterdam Airport Schiphol to empower travellers during their trip. For instance the "cities in a click" that ING introduces at Schiphol airport. These are custom-made high-resolution illustrations offering travellers useful insights to key travel destinations before they step onto the plane. The illustrations contain top tips on what to do and see in New York, Tokyo, Hong Kong, London, Paris, Milan, Shanghai, Frankfurt, Istanbul or Madrid. Ten local artists from each of the ten cities were commissioned to create an illustration that reflects their city.

ING worked with Lonely Planet to ensure each one is packed with the latest insightful suggestions and tips. The posters are specifically designed so travellers can take a digital photograph of each illustration, zoom in and explore the content in more detail.
Business insights
In the same spirit, ING will provide relevant industry information to business travellers in the Privium lounge, the place where frequent leisure or business travellers can work or relax.

Charging up to be ready for take-off
There will be ING branded seating areas across the airport with multiple power outlets, including USB ports. Before they go off on their trip, travellers can power up their devices and wrap up their work at these seating areas.
Selfies "World, here I come!"
People love to post updates on social media, especially when travelling. ING will offer travellers at Amsterdam Airport Schiphol the opportunity to make these updates a little more special by providing areas where they can take selfies. Travellers can use the "selfie billboard", to personalise their background, or they can use the selfie window stickers at the gates.

Starting today the campaign, developed by Amsterdam based agency United State of Fans\TBWA, will be gradually rolled out and will run for two years.
More info
High resolutions photos of the campaign are available at the Flickr account of ING Group and can be downloaded in various sizes.
Update 1 October 2015
This video gives an overview of the World here I come campaign. We didn't just want to tell people our purpose. We wanted to prove it. Where better to empower people to stay a step ahead in life and in business than Amsterdam's Schiphol Airport? This integrated campaign encapsulates ING's purpose and turned Schiphol into a flagship brand experience for ING, directly reaching 55 million potential customers annually.