Platform Pioneer Patrick Arnaud
05 March 2019
...

min read
Listen
ING's purpose is to empower people to stay a step ahead in life and in business. To continue doing this in a world that is changing quicker than ever before, we need to be where our customers are - on digital platforms. Our own and those of others. Offering a uniform, differentiating ING experience that's instant and borderless.

So what platform initiatives are ING employees currently working on? In this series we speak to some of our platform pioneers, the employees working on platform initiatives throughout ING.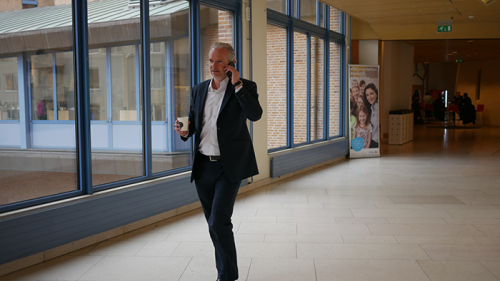 Name: Patrick Arnaud
Role: Subject matter expert komgo
Country: Switzerland
Joined ING: September 2007

What platform initiative are you working on?
I'm working on komgo - an open, blockchain-based platform that replaces traditional paper-based administration to make trade finance more secure. It's the result of two successful blockchain experiments carried out on ING's Easy Trading Connect platform in energy and soft commodities trading, and Vakt, another blockchain-based platform that digitalises energy transactions through the full trade cycle to final settlement.
What can users do on the platform?
Komgo will initially offer two products to service the energy, soft and metals commodity sectors. One standardises and facilitates the know your customer (KYC) process while the other is for digital letters of credit.

The KYC module enables users to exchange documents on an encrypted and 'need to know' basis. Today, they are often exchanged by email for example – neither secure nor efficient. The digital letters of credit will enable commodity houses and other players to submit digital trade data and documents to banks on komgo.
How does it help customers?
Current paper-based practices in the international commodity trade and finance sector have high costs and are subject to delays and risks. The industry is complex, which is why processes haven't been standardised or digitalised in years.

That's where komgo comes in. Apart from being more efficient – the time spent on processing documents and data can be reduced by up to five times - applying blockchain technology in trade commodity finance increases safety. The main benefit of blockchain is its immutability – once information is in the blockchain it can never be changed – which prevents cyber attackers from corrupting the database.

How are you contributing to komgo in your current role?
I advise the team on prioritising the products we offer on komgo, and I test and provide feedback on products in the workshops we organise with our shareholders. Together we shape the platform's customer journey by continuously improving komgo's features and user experience.


What do you like most about working for ING in this area?
ING is clearly a frontrunner in innovation. I feel I'm contributing to the new way of doing commodities trade finance, which is exhilarating!
What are the biggest challenges?
So far, blockchain's use case for commodity trade and trade finance has been limited to proofs of concepts and one-off transactions. With komgo, the potential of blockchain to transform commodities trading is clear. The biggest challenge is making the komgo platform an industry standard.
Where do you see ING in five years with regard to platforms?
I believe a large part of our commodities trade finance business will ultimately be processed on interconnected platforms. Our ambition is for komgo to become one of those.