ING 2015 underlying net profit EUR 4,219 million; FY 2015 dividend at EUR 0.65 per ordinary share
04 February 2016
...

min read
Amsterdam, 4 February 2016

Think Forward strategy drives strong new customer acquisitions and commercial growth in 2015

ING attracted over 1.4 million new retail customers; primary relationships increased by almost 7% to 8.9 million
Core lending recorded net growth of EUR 21.7 billion; robust net customer deposit inflow of EUR 25.1 billion



ING Bank full-year 2015 underlying net profit of EUR 4,219 million, up 23.2% from full-year 2014

Strong 2015 performance reflects higher interest results and lower risk costs, despite higher regulatory costs
4Q15 underlying result before tax was EUR 1,202 million with positive momentum across both Retail and Wholesale Banking



ING Group fully-loaded CET1 ratio strengthened to 12.7%; proposal to pay full-year dividend of EUR 2,515 million

ING Group full-year 2015 net result EUR 4,010 million; 4Q15 net result was EUR 819 million
ING Group's SREP requirement set at 9.5%; Dutch buffers currently set at 3% and phase in over four years
ING proposes to pay final cash dividend of EUR 0.41 per ordinary share, following interim dividend of EUR 0.24 in August 2015


CEO Statement
"We work hard every day to improve the customer experience and are grateful for the confidence our clients place in us," said Ralph Hamers, CEO of ING Group. "In 2015, our retail customer base grew by over 1.4 million new customers to 34.4 million at year-end; of this total, the number of customers selecting ING as their primary bank rose by almost 7% to 8.9 million. Net growth in our core lending book was EUR 21.7 billion, or 4.2%, as we continued to support our clients' financing needs throughout the business cycle. Net customer deposits grew by EUR 25.1 billion, or 5.1%."

"During 2015, we also made significant progress on increasing the pace of innovation across the company. In the fourth quarter, Poland introduced Moje ING, a platform which gives customers a comprehensive overview of their finances with the help of an easy-to-use financial planning tool, and is based on a similar system in Spain. Twyp, our app for peer-to-peer payments using telephone numbers, was launched in Spain in December. In the new year we also launched Twyp in the Netherlands and announced an investment in the fintech WeLab, which provides consumer loans in China and Hong Kong in a fully automated process that takes just minutes."

"I'm proud that ING also made important strides in our sustainability efforts. We published our ambitions to reduce our carbon dioxide footprint, water usage and waste by 20% and have committed to procuring 100% renewable electricity for all our buildings, both by 2020. As part of our efforts to helping our clients' transition to more sustainable operations, we ended the financing of new coal exploration and are reducing existing coal financing."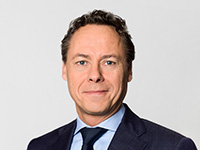 We work hard every day to improve the customer experience and are grateful for the confidence our clients place in us. In 2015, our retail customer base grew by over 1.4 million new customers to 34.4 million at year end.
"ING Bank recorded an underlying net profit of EUR 4,219 million in 2015, which is 23.2% higher than in 2014. This improvement was primarily driven by higher interest results on the back of strong lending growth and lower risk costs, and despite a substantial increase in regulatory costs. ING Bank's full-year underlying return on equity rose to 10.8% from 9.9% in 2014. ING Bank's fourth-quarter 2015 underlying result before tax was EUR 1,202 million, reflecting continued positive momentum in both Retail and Wholesale Banking. Income grew, supported by volume growth and increased fees, and ING Germany delivered another record quarterly result."

"In 2015, we completed the divestment of Voya and significantly reduced our stake in NN Group, bringing us closer to completing our restructuring and consolidating our position as one of Europe's leading banks. Including the net result of the legacy Insurance businesses, ING Group posted a net result of EUR 4,010 million for the full-year 2015. The fourth-quarter 2015 net result of ING Group was EUR 819 million."

"Our capital position continued to strengthen and the fully-loaded CET1 ratios of ING Group and ING Bank were 12.7% and 11.6%, respectively, at year-end. We are pleased to propose a full-year 2015 dividend of EUR 0.65 per share, comprising the previously announced interim dividend of EUR 0.24 and a final dividend of EUR 0.41 per share. We are committed to maintaining a healthy Group CET1 ratio in excess of prevailing fully-loaded requirements, currently 12.5%, and to returning capital to our shareholders. We aim to pay a progressive dividend over time."

"ING's strategy is on track and I am proud of our achievements in 2015. I am confident that our franchise will continue to create sustainable long-term growth in 2016, while empowering our customers and delivering value to our shareholders."
Consolidated Results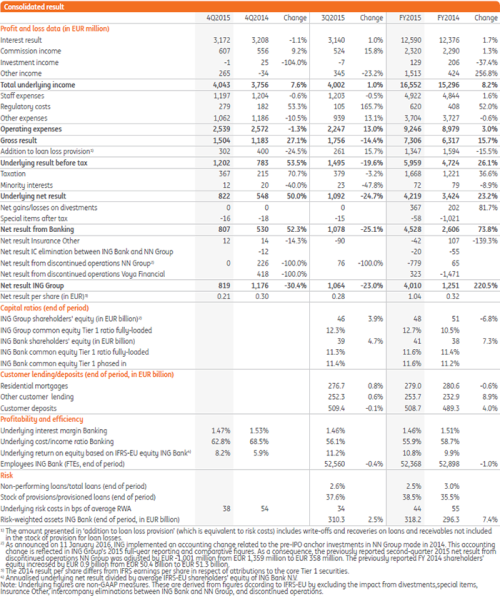 Analyst and investor conference call
4 February 2016, at 9:00 a.m. CET

NL +31 20 794 8500
UK +44 207 190 1537
US +1 480 629 9031

Listen to the investor conference call at www.ing.com
Media conference call
4 February 2016, at 11:00 a.m. CET

NL +31 20 531 5871
UK +44 203 365 3210

Listen to the media conference call at www.ing.com
ING PROFILE
ING is a global financial institution with a strong European base, offering banking services through its operating company ING Bank and holding a significant stake in the listed insurer NN Group NV. The purpose of ING Bank is empowering people to stay a step ahead in life and in business. ING Bank's more than 52,000 employees offer retail and wholesale banking services to customers in over 40 countries.

ING Group shares are listed (in the form of depositary receipts) on the exchanges of Amsterdam (INGA NA, ING.AS), Brussels and on the New York Stock Exchange (ADRs: ING US, ING.N).

Sustainability forms an integral part of ING's corporate strategy, which is evidenced by ING Group shares being included in the FTSE4Good index and in the Dow Jones Sustainability Index (Europe and World). where ING is among the leaders in the Banks industry group.
IMPORTANT LEGAL INFORMATION
ING Group's Annual Accounts are prepared in accordance with International Financial Reporting Standards as adopted by the European Union ('IFRS-EU').

In preparing the financial information in this document, the same accounting principles are applied as in the 2014 ING Group Annual Accounts. The Financial statements for 2015 are in progress and may be subject to adjustments from subsequent events. All figures in this document are unaudited. Small differences are possible in the tables due to rounding.

Actual results, performance or events may differ materially from those in such statements due to, without limitation: (1) changes in general economic conditions, in particular economic conditions in ING's core markets, (2) changes in performance of financial markets, including developing markets, (3) consequences of a potential (partial) break-up of the euro, (4) ING's implementation of the restructuring plan as agreed with the European Commission, (5) changes in the availability of, and costs associated with, sources of liquidity such as interbank funding, as well as conditions in the credit markets generally, including changes in borrower and counterparty creditworthiness, (6) changes affecting interest rate levels, (7) changes affecting currency exchange rates, (8) changes in investor and customer behaviour, (9) changes in general competitive factors, (10) changes in laws and regulations, (11) changes in the policies of governments and/or regulatory authorities, (12) conclusions with regard to purchase accounting assumptions and methodologies, (13) changes in ownership that could affect the future availability to us of net operating loss, net capital and built-in loss carry forwards, (14) changes in credit ratings, (15) ING's ability to achieve projected operational synergies and (16) the other risks and uncertainties detailed in the Risk Factors section contained in the most recent annual report of ING Groep N.V. Any forward-looking statements made by or on behalf of ING speak only as of the date they are made, and, ING assumes no obligation to publicly update or revise any forward-looking statements, whether as a result of new information or for any other reason.

This document does not constitute an offer to sell, or a solicitation of an offer to purchase, any securities in the United States or any other jurisdiction. The securities of NN Group have not been and will not be registered under the U.S. Securities Act of 1933, as amended (the "Securities Act"), and may not be offered or sold within the United States absent registration or an applicable exemption from the registration requirements of the Securities Act.