ING Bank posts 2014 underlying net profit of EUR 3,424 million; Dividends reinstated with EUR 0.12 per ordinary share
11 February 2015
...

min read
11 February 2015
ING Bank full-year 2014 underlying net profit of EUR 3,424 million, up 8.5% from full-year 2013

Strong full-year 2014 results reflect higher interest results, strict expense control and lower risk costs
4Q14 underlying net result of EUR 548 million reflects redundancy provisions, annual Dutch bank tax and negative CVA/DVA
Full-year 2014 underlying return on IFRS-EU equity improved to 9.9%; year-end fully-loaded CET 1 ratio strengthened to 11.4%



ING Group full-year 2014 net result EUR 1,251 million (EUR 0.32 per share), including special items and Insurance results

4Q14 net result was EUR 1,176 million (EUR 0.30 per share) including results from discontinued operations of NN Group and Voya
Significant progress on restructuring in 2014: Dutch State fully repaid, NN Group stake reduced to 68%, Voya stake down to 19%



ING reinstates dividend payments on ordinary shares and will propose to pay EUR 0.12 per share at the AGM in May

Financial strength enables ING to propose to pay a cash dividend of EUR 470 million, or EUR 0.12 per ordinary share
ING intends to pay a minimum of 40% of ING Group's annual net profi ts to shareholders, through dividends, effective from 2015
CEO Statement
"2014 was an important and successful year for ING," said Ralph Hamers, CEO of ING Group. "We launched our 'Think Forward' strategy, repaid the Dutch State ahead of schedule and moved closer to completing our restructuring plan. We are proud to have solidified our repositioning as a leading European bank and pleased to see that both NN Group and Voya are thriving as standalone companies. Today, I am delighted to announce the reinstatement of dividend payments on ordinary shares with a proposed cash dividend of EUR 0.12 per share."

"In 2014, ING Bank welcomed over one million new customers and established half a million primary banking relationships. I am grateful for the loyalty of our customers and for the dedication of our employees to deliver a differentiating experience to our customers every day. Following the launch of 'Think Forward', our Chief Innovation Officer and Chief Operations Officer have been working together to deliver innovations and service improvements to our customers as quickly as possible. We have already introduced a steady stream of improvements during 2014, the most recent being biometrics technology in Belgium, and are excited about other new projects that will debut this year."

"ING Bank posted a strong set of full-year 2014 results, despite some headwinds in the fourth quarter. Interest results were robust, risk costs approached normalised levels and our continued vigilance on costs was evident as we invested for the further digitalisation of our banking services in the Netherlands and extended our ongoing transformation programme within Commercial Banking. Our fourth-quarter result was dampened by redundancy provisions related to these actions, the annual Dutch bank tax and negative CVA/ DVA impacts which lowered the underlying result before tax to EUR 783 million. Excluding those items, the underlying result before tax was a strong EUR 1,376 million. ING Bank's underlying net profit for the full-year 2014 was EUR 3,424 million, up 8.5% from 2013. The improvement was driven by higher interest results, disciplined expense control and lower risk costs, and despite negative CVA/DVA impacts. The full-year underlying return on IFRS-EU equity rose to 9.9% and ING Bank ended the year with a fully-loaded CET1 ratio of 11.4%."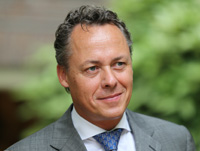 I am grateful for the loyalty of our customers and for the dedication of our employees to deliver a differentiating experience to our customers every day.
"Our efforts to support our customers and the economy contributed to strong commercial growth during 2014. The Bank grew net lending by EUR 14.7 billion in 2014, driven by robust growth in our core lending businesses and despite further reductions in the runoff portfolios. Net lending assets in the core businesses grew by EUR 18.5 billion in 2014, or 3.8%, which is in line with our strategy. Total net inflow of funds entrusted amounted to EUR 16.8 billion, demonstrating the strength of our deposit-gathering capabilities."

"ING has started 2015 with a strong financial position and a clear focus on empowering our growing customer base through outstanding products and customer service. I am optimistic about the prospects for our bank and am confident that we are well positioned to build on our strategic momentum. We remain committed to reaching our Ambition 2017 targets and are pleased that we are able to begin returning capital to our shareholders. Our intention is to pay a minimum of 40% of ING Group's annual net profits to shareholders, through dividends, with effect from 2015. Furthermore, at the end of each financial year, the Board will recommend whether to return additional capital to shareholders dependent on financial, strategic and regulatory considerations."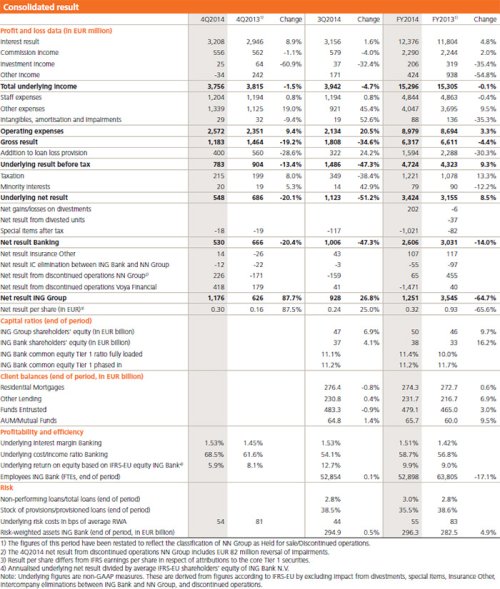 Analyst and investor conference call
11 February 2015, at 9:00 a.m. CET

NL +31 20 794 8500
UK +44 20 7190 1537
USA +1 480 629 9031

Listen to the investor conference call at www.ing.com
11 February 2015, at 10:30 a.m. CET

NL +31 20 531 5871
UK +44 203 365 3210

Listen to the media conference call at www.ing.com
IMPORTANT LEGAL INFORMATION
ING Group's Annual Accounts are prepared in accordance with International Financial Reporting Standards as adopted by the European Union ('IFRS-EU').

In preparing the financial information in this document, the same accounting principles are applied as in the 3Q2014 ING Group Interim Accounts.

The Financial statements for 2014 are in progress and may be subject to adjustments from subsequent events.

All figures in this document are unaudited. Small differences are possible in the tables due to rounding.

Certain of the statements contained herein are not historical facts, including, without limitation, certain statements made of future expectations and other forward-looking statements that are based on management's current views and assumptions and involve known and unknown risks and uncertainties that could cause actual results, performance or events to differ materially from those expressed or implied in such statements. Actual results, performance or events may differ materially from those in such statements due to, without limitation: (1) changes in general economic conditions, in particular economic conditions in ING's core markets, (2) changes in performance of financial markets, including developing markets, (3) consequences of a potential (partial) break-up of the euro, (4) the implementation of ING's restructuring plan to separate banking and insurance operations, (5) changes in the availability of, and costs associated with, sources of liquidity such as interbank funding, as well as conditions in the credit markets generally, including changes in borrower and counterparty creditworthiness, (6) the frequency and severity of insured loss events, (7) changes affecting mortality and morbidity levels and trends, (8) changes affecting persistency levels, (9) changes affecting interest rate levels, (10) changes affecting currency exchange rates, (11) changes in investor, customer and policyholder behaviour, (12) changes in general competitive factors, (13) changes in laws and regulations, (14) changes in the policies of governments and/or regulatory authorities, (15) conclusions with regard to purchase accounting assumptions and methodologies, (16) changes in ownership that could affect the future availability to us of net operating loss, net capital and built-in loss carry forwards, (17) changes in credit ratings, (18) ING's ability to achieve projected operational synergies and (19) the other risks and uncertainties detailed in the Risk Factors section contained in the most recent annual report of ING Groep N.V. Any forward-looking statements made by or on behalf of ING speak only as of the date they are made, and, ING assumes no obligation to publicly update or revise any forward-looking statements, whether as a result of new information or for any other reason.

This document does not constitute an offer to sell, or a solicitation of an offer to purchase, any securities in the United States or any other jurisdiction. The securities of NN Group have not been and will not be registered under the U.S. Securities Act of 1933, as amended (the "Securities Act"), and may not be offered or sold within the United States absent registration or an applicable exemption from the registration requirements of the Securities Act.