ING Bank records 3Q14 underlying net profit of EUR 1,123 million
05 November 2014
...

min read
Listen
5 November 2014
ING Bank 3Q14 underlying net profit of EUR 1,123 million, up from EUR 820 million in 3Q13 and EUR 923 million in 2Q14

3Q14 results reflect a strong increase in interest results and lower risk costs at 44 bps of average RWA
ING supported customers with EUR 3.3 billion in net lending, funded by EUR 4.3 billion of net funds entrusted
Year-to-date underlying return on IFRS-EU equity rises to 11.4%; 3Q14 fully-loaded CET 1 ratio strengthened further to 11.1%

ING Group 3Q14 net result EUR 928 million (EUR 0.24 per share), including special items and Insurance results

NN Group has been reclassified as 'held for sale' and 'discontinued operations' effective as of 30 September 2014
Change in NN Group classification triggers EUR 403 million write-down of goodwill and other non-current assets

ING accelerates repayment of final tranche of core Tier 1 securities after comfortably passing the AQR and stress test

EUR 7.9 billion combined market value of ING's stakes in NN Group and Voya provide substantial financial flexibility
Following the ECB's comprehensive assessment, ING accelerates its final payment of state aid to November 2014
CEO Statement
"Since launching our 'Think Forward' strategy seven months ago, we have been working harder than ever to deliver on our customer promises and strategic purpose of empowerment," said Ralph Hamers, CEO of ING Group. "It is encouraging to see our efforts reflected so positively in our strong commercial and financial results for this quarter."

"Innovation is happening every day at ING. During the third quarter, our drive to keep getting better led to a steady stream of improvements. In the Netherlands, we added voice recognition technology to our mobile banking app – an exciting new feature that is the first of its kind at any European bank. We introduced a digital wallet service in Italy, following the launch of similar services in Poland and Turkey earlier this year. A new digital platform was launched in Spain, which enhances the customer experience – it encourages clients to think about their future by helping them to analyse and manage their personal finances using customisable visuals. In Commercial Banking, we advanced our goals of making banking easier and enabling clients to stay a step ahead by streamlining our on-boarding process, without compromising on due diligence and regulatory requirements."

"ING Bank posted an excellent set of quarterly results, underpinned by our commitment to serve our customers' financial needs. We extended EUR 3.3 billion in net lending, primarily in Structured Finance, General Lending and residential mortgages. This was funded by a EUR 4.3 billion net inflow of funds entrusted which was generated across our franchise. The third-quarter underlying result before tax rose 34.7% year-on-year and 16.3% sequentially to EUR 1,486 million, reflecting higher interest results and lower risk costs. This robust performance supported an increase in the year-to-date underlying return on IFRS-EU equity to 11.4%, in line with our Ambition 2017 target range. The Bank's capital position strengthened, with a fully-loaded CET 1 ratio of 11.1%, and our liquidity and leverage measures remain sound."

"We continued to simplify our company, consistent with our repositioning as a leading European bank. In light of our intention to divest our remaining stake in NN Group over time, we changed the classification of NN Group to 'held for sale' and 'discontinued operations', effective as of 30 September 2014. Our stake in Voya Financial, Inc. was further reduced in September to approximately 32%. The financial impacts of these actions, together with the net results of our Insurance businesses, are reflected in ING Group's third-quarter net result of EUR 928 million."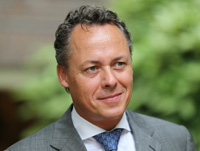 ING Bank posted an excellent set of quarterly results, underpinned by our commitment to serve our customers' financial needs.
"The current EUR 7.9 billion combined market value of our remaining stakes in NN Group and Voya reflect a healthy capital surplus at Group level, affording ample financial flexibility. Last week, the stability of our financial position was affirmed by the outcome of the ECB's comprehensive assessment. Today, we are pleased to announce that we have received regulatory approval to bring forward our final payment of state aid, which will be paid in the coming days. We are grateful to the Dutch State, our customers and our shareholders for their support throughout the financial crisis and for the confidence they have placed in ING."

"I am proud of the hard work and dedication of our employees that made our strong performance in the third quarter possible. The implementation of our strategy is on track and we are well positioned to benefit from the transformation that is taking place in the banking landscape."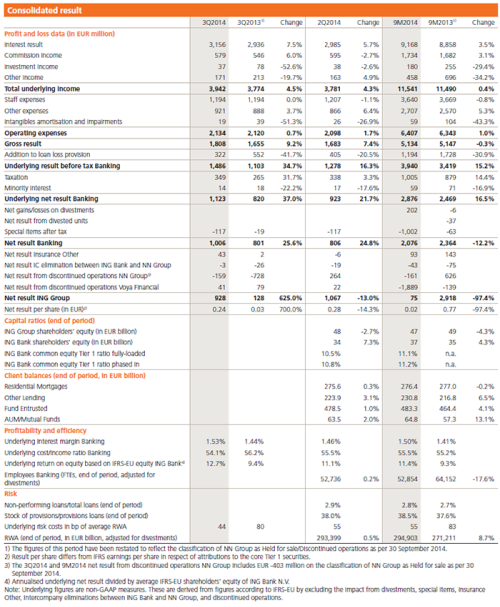 Analyst and investor conference call
5 November 2014, at 9:00 a.m. CET

NL +31 20 794 8500
UK +44 20 7190 1537
USA +1 480 629 9031

Listen to the investor conference call at www.ing.com
Media conference call
5 November 2014, at 11:00 a.m. CET

NL +31 20 531 5846
UK +44 203 365 3210

Listen to the media conference call at www.ing.com
IMPORTANT LEGAL INFORMATION
ING Group's Annual Accounts are prepared in accordance with International Financial Reporting Standards as adopted by the European Union ('IFRS-EU').

In preparing the financial information in this document, the same accounting principles are applied as in the 3Q2014 ING Group Interim Accounts.

All figures in this document are unaudited. Small differences are possible in the tables due to rounding.

Certain of the statements contained herein are not historical facts, including, without limitation, certain statements made of future expectations and other forward-looking statements that are based on management's current views and assumptions and involve known and unknown risks and uncertainties that could cause actual results, performance or events to differ materially from those expressed or implied in such statements. Actual results, performance or events may differ materially from those in such statements due to, without limitation: (1) changes in general economic conditions, in particular economic conditions in ING's core markets, (2) changes in performance of financial markets, including developing markets, (3) consequences of a potential (partial) break-up of the euro, (4) the implementation of ING's restructuring plan to separate banking and insurance operations, (5) changes in the availability of, and costs associated with, sources of liquidity such as interbank funding, as well as conditions in the credit markets generally, including changes in borrower and counterparty creditworthiness, (6) the frequency and severity of insured loss events, (7) changes affecting mortality and morbidity levels and trends, (8) changes affecting persistency levels, (9) changes affecting interest rate levels, (10) changes affecting currency exchange rates, (11) changes in investor, customer and policyholder behaviour, (12) changes in general competitive factors, (13) changes in laws and regulations, (14) changes in the policies of governments and/or regulatory authorities, (15) conclusions with regard to purchase accounting assumptions and methodologies, (16) changes in ownership that could affect the future availability to us of net operating loss, net capital and built-in loss carry forwards, (17) changes in credit ratings, (18) ING's ability to achieve projected operational synergies and (19) the other risks and uncertainties detailed in the Risk Factors section contained in the most recent annual report of ING Groep N.V. Any forward-looking statements made by or on behalf of ING speak only as of the date they are made, and, ING assumes no obligation to publicly update or revise any forwardlooking statements, whether as a result of new information or for any other reason.

This document does not constitute an offer to sell, or a solicitation of an offer to purchase, any securities in the United States or any other jurisdiction. The securities of NN Group have not been and will not be registered under the U.S. Securities Act of 1933, as amended (the "Securities Act"), and may not be offered or sold within the United States absent registration or an applicable exemption from the registration requirements of the Securities Act.