Private Banking sponsors Dutch golf
18 December 2015
...

min read
Listen
18 December 2015

Dutch golf has a new sponsor. ING Private Banking.
The announcement was made this week at a tee-off event at the Amsterdam Stock Exchange. ING Private Banking is now the main sponsor of the Royal Dutch Golf Federation (NGF), Golf Team Holland and the Ladies Open, and partner of the KLM Open. With 400,000 members golf is the third-largest sport in the Netherlands.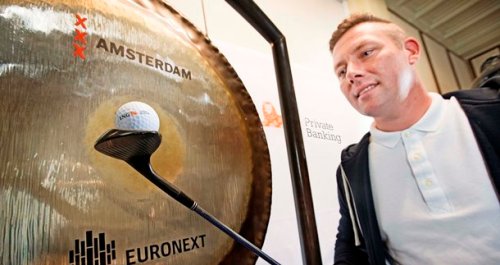 Arnout Bloys van Treslong, director Beleggen & Experience Private Banking at ING Netherlands said the country's 200-plus golf courses are perfect venues for uniting sporting performance, socialising and professional networking. "It should therefore come as no surprise that the golf course is where our potential and actual Private Banking target group is regularly to be found.

"ING Private Banking has a growth strategy, which means that we want to raise awareness of the ING brand in this segment. We want to be a forward-looking private bank that embraces innovation and rejuvenation." Bloys van Treslong said ING Private Banking would work with the NGF to help rejuvenate the sport.

"An essential element in this will be the introduction of a web application that allows golfers to keep track of their scores, update their handicap in real time and share scores with their friends. "In addition we plan to organise various activities for families and do more to attract young people to the sport," he said.

This is an External video.
This video is unavailable because of your cookie settings. Accept cookies and the video will be available.