Ralph's reputation is world class
25 May 2018
ING's very own Ralph Hamers is one of the world's most reputable CEOs. This is according to the Reputation Institute, which for the first time measured the reputation of CEOs in 15 countries. Ralph is in the top 10.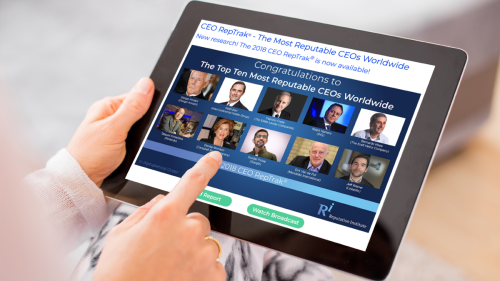 The Reputation Institute is known for its annual study of the world's most reputable brands and companies. This year, for the first time it also measured which company leaders enjoy the best reputation. The study was carried out at the start of 2018.

ING's Ralph Hamers is one of only three European CEOs – and the only banker – to make it into the Top 10, showing the high regard in which ING is held internationally.

According to the study, Ralph scored particularly well in leadership, management, influence and responsibility. He was commended for his promotion of sustainability, technological advancements and transparency in "an otherwise guarded industry".

The CEO RepTrak study is the largest of its kind, based on more than 28,000 individual ratings collected across 15 countries and in a range of industries. These include financial services, technology, food and beverage, consumer and hospitality.

"This is not only about me, but about each and every ING employee who has contributed to the way people perceive ING," Ralph said.
What makes a reputable leader?
The study shows a strong correlation between how the public views a company and its CEO's reputation.

It also shows that responsible leadership and a willingness to take a stand on issues influence the CEO reputation. Almost a third of a CEO's reputation is based on ethical behaviour and caring about social causes. It is also influenced by characteristics such as empathy, consistency, social responsibility and openness.

"Assessing a CEO's performance based solely on financial returns is no longer enough," said Stephen Hahn-Griffiths, the Reputation Institute's chief reputation officer.

"To be relevant as a contemporary leader today, you need to be a CEO with conscience."

Google's Sundar Pichai tops the list. The other CEOs in the Top 10 are (in alphabetical order):
Giorgio Armani of Giorgio Armani
Keith Barr of InterContinental Hotels Group
Fabrizio Freda of The Esteé Lauder Company
Ralph Hamers of ING
Bernard Hess of The Kraft Heinz Company
Tatsumi Kimishima of Nintendo
Denise Morrison of Campbell Soup Company
Dirk Van de Put of Mondelez International
Jeff Weiner of LinkedIn
Related stories