The rise of the digital advisor
9 May 2016
ING customers in France can now be their own financial advisers, thanks to the launch of Coach Epargne, a digital instructor on money matters.
Coach Epargne, a feature on ING France's banking app, helps people make savings and investment choices that best fit their personal situation, ambitions and willingness to take risks.
Robo advisors trend
The rise of digital advisors and 'robo advisors' has been an emerging trend in the financial services industry for some time now. Explained simply, it's the provision of financial advice with minimal human intervention.
Coach Epargne takes a customer's financial situation, savings goals and investment risk profile as a starting point. It then tells them how much they should keep available for short term needs, how much they should save, and how much they should invest. It guides them on the best investment options.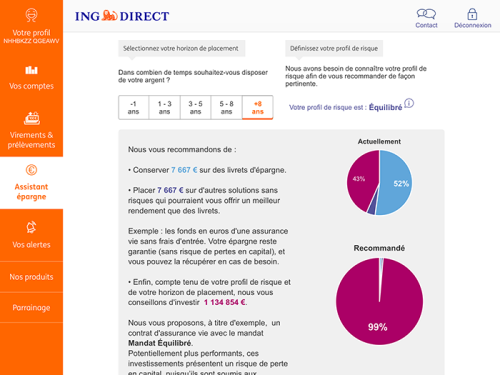 First of its kind in France
France's new initiative contrasts with standard 'robo-advice' solutions that only provide investment advice. Coach Epargne, for instance, could advise someone not to invest and instead save more money. It is the first of its kind in France. So far it's a minimum viable product that's only available via IOS (Apple) smartphones.
Three weeks since its launch, 10,000 customers have visited the application. Some 1,658 customers went through the process and received a recommendation on their savings.
Digital coaches or robo advice make extensive use of data algorithms to provide financial advice.
Strategic priorities
ING has embraced the trend towards these types of services. Two of our strategic priorities are to increase the pace of innovation to serve changing customer needs and also to develop analytics skills to understand customers better.
In Spain, Genoma, ING's omnichannel platform enables customers to use online tools to analyse their financial situation, and Polish customers have similar access with ING Moje, launched earlier this year.