What it takes to be a plastic hero
11 June 2019
...

min read
Plastic. We can't seem to do without it. It's found in the clothes we wear, the houses we live in, the cars we travel in. Sadly, it's also found in the oceans we swim in and parks we play in.

Plastic waste is one of the biggest environmental challenges facing the world today. The world produces 1900% more plastic each year today than it did 50 years ago. According to the Ellen MacArthur Foundation, 78 million tonnes of plastic packaging is produced every year, of which 40% goes straight to landfill, 32% of it leaks into the environment, 14% is incinerated and only 14% is collected for recycling.

Here, ING takes a look at how a start-up, client, supplier, branch and employee are tackling the problem of plastic waste. You can also read more about ING's stance on plastic.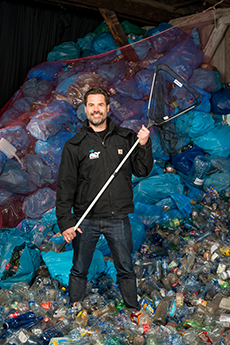 THE START-UP: Change begins with the first small step
Marius Smit had seen a lot of plastic litter during his trip around the world in 2004, but a visit to Borneo changed his life. One morning he was shocked to find a beach fully engulfed in plastic waste after a recent typhoon. That got him interested in the issue of 'plastic soup'.

Back home in Amsterdam, he realised that the problem wasn't only thousands of miles away, but right there in front of him in the city's historic canals. He wanted to do something. But what? In 2011, he created Plastic Whale with the goal to build a boat from Amsterdam's plastic waste, and plastic fishing was born.

Today, Plastic Whale has a fleet of 10 boats built from plastic waste. More than 20,000 people have gone plastic fishing with them since 2011. In 2018, Marius and his start-up fished 44,000 plastic bottles out of Amsterdam's canals. They also branched out to make circular design furniture. The movement keeps growing — new sponsors, new furniture, new partnerships in Asia, more fishing groups. In 2019, Plastic Whale will introduce plastic fishing to London, Hamburg and Frankfurt.

"I wanted to create something that would inspire people to take action," Marius says. "Boats are perfect, because they're social and symbolise finding new horizons."
THE CLIENT: Creating a circular loop for plastics
KIVO may be one of Europe's leading producers of flexible plastics — the kind used to wrap a new T-shirt, for example — but CEO Robert Kwakman thinks of his company as a kitchen.

More than 90% of its products are made with downgauged materials, meaning the plastic is made thinner without losing its quality. Its magazine wrap used to be 22 microns (1 micron = 1/1000 millimetre) thick. Now it's 7. Making plastic thinner means that less of it is needed, which ultimately means less waste.

"The secret is blending the materials in a certain way. We're like a cook. For each product, we have a different recipe."
A key ingredient is accurately sorted recycled plastic. So KIVO and a partner just opened a factory in Kosovo, where 100 employees will sort 10 million kilos of recycled plastics this year. The granulate created from all that will be sold to other producers and used by KIVO.

Robert challenges us to reconsider negative attitudes to plastics in general. "To get the same strength of a plastic carrier bag, you need 7 times more paper. If you want to package 50 kg of soup, you need 1 kg of plastic but 50 times more glass."

All that extra glass and paper production creates a heavy environmental cost, too. Which is why KIVO is working hard with partners to create a fully circular loop for plastics.
THE SUPPLIER: Plastics is a state of mind
Plastic is not just plastic. There are hundreds of types, each with its own structure, colour and properties. How to best handle that complexity is something Gijs Derks thinks about constantly as commercial director Netherlands at waste-to-product company Renewi, which collects the plastic waste from ING's head office in Amsterdam.

"Plastics is a state of mind. As we like to say: 'waste no more.' You can interpret that in two ways. First, how can we make something beautiful from plastic waste? Can we recycle it and give it a second life? Second, how can we help our customers to prevent producing waste?"

There are several ways to recycle plastic, including mechanical sorting and even chemical recycling into raw material for new plastics. The challenge is to separate it well at the source. This is vital to prevent plastic waste and maximise the value in the first place. Gijs has discovered that a bit more awareness can achieve a lot here. "People need to know: if I separate it, what will be done with it? They should be aware of how much it actually helps."

Gijs is optimistic about the future of plastics. "In 10, 20 years, plastic will no longer be a waste issue, but a reuse issue—how to turn it into beautiful things, again and again."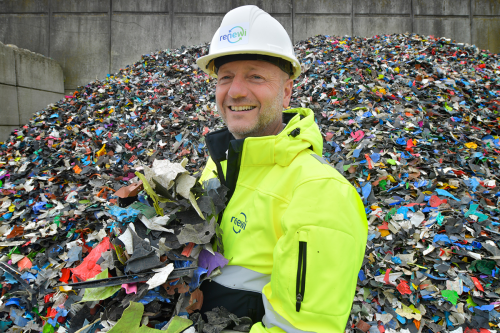 THE OFFICE: We're all responsible
Plastics are complex, and recycling them even more so. So when thinking of how to raise awareness among the 70 employees in Sofia, ING Bulgaria's head of facility management and procurement, Zornitsa Milanova, decided to keep it simple.

"There are many sophisticated sustainability projects but practically speaking people can't see the results. I wanted every person to feel how they are personally responsible. To be able to see the results and start immediately."

She started by replacing the plastic water bottles in the office kitchen with a water-filtration machine. Paper and plastic cups were replaced with glass.

As staff got used to the changes, Zornitsa went further. She replaced the waste bins under every desk with shared ones in common areas, saving 2,000 plastic bags per month.

But the most popular initiative among employees is collecting the caps of plastic bottles, which is actually the most valuable part. They're donated to a local organisation that sells them and donates the money to underfunded state hospitals, which then buy modern incubators for premature babies. ING Bulgaria donated 21 kilos of plastic caps during the last campaign.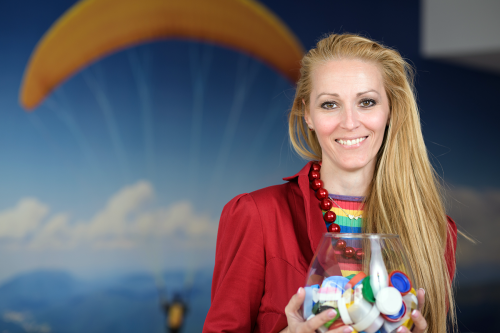 THE EMPLOYEE: Being conscious with your shopping cart
If you're a parent, expecting your kids to reduce the amount of plastic they use might seem over the top. Isn't doing their homework or remembering to turn off the lights enough?

Not for Marloes Bergevoet, a marketeer in Wholesale Banking and mother of five aged 5 to 13. "As a big family, you're very aware of your [plastic] footprint."

So after visiting a former swimming-pool-turned-incubator for circular companies near Rotterdam, Marloes got an idea and shared it with the family: let's try to reduce the amount of single-use plastics we use for one month.

Everyone took the challenge seriously. Marloes carried around glass jars, cotton bags and durable plastic containers to the butcher, bakery and supermarket. She researched where she could buy food that wasn't sealed in plastic but had, for instance, a cardboard box.

The children's enthusiasm grew as they progressed through the 30-day challenge. They even voluntarily cut down their candy and chips consumption, although luckily chocolate bars sometimes still come in paper wrappers.

The challenge is over, but their awareness for plastic waste persists. "I have a really plastic-critical lens now. It's so easy to put your sandwich in a reusable box instead of getting pre-packaged stuff and throwing it out."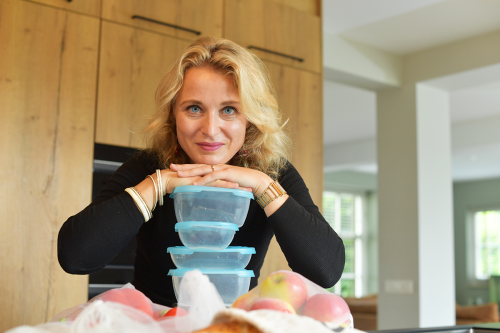 What can I do?
Reduce: Calculate your plastic footprint and take steps to reduce it.
Reuse: Bring your own shopping bags to the store, use your own coffee cup at the café, get a reusable water bottle instead of plastic ones.
Refuse: Say no to things like straws, beverage tops (are you really going to spill?) and chewing gum, which is made of a synthetic rubber, aka plastic.
Recycle: Don't just throw plastic away, separate your plastic waste so it can be recycled. These tips are adapted from the Earth Day Network.
Related stories