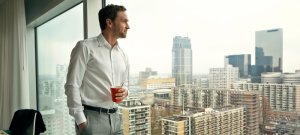 Purpose & Strategy
Our purpose
ING believes all sustainable progress is driven by people with the imagination and determination to improve their future and the futures of those around them. We empower people and organisations to realise their own vision for a better future – however modest or grand. Our purpose therefore is: Empowering people to stay a step ahead in life and in business.
Following this purpose we have defined four simple promises that show our customers that we mean business.
We make banking clear and easy
We believe banking doesn't have to be difficult or time consuming. Less is more. Clear products. Plain language. Fair prices. Simple processes. These save us both time and money.
We are there anytime, anywhere
We promise to make banking possible anytime, anywhere. Those moments when more expertise is required, we're here to help. Because many big decisions are also financial decisions.
We empower you to make smart financial decisions
We promise to provide you with the relevant information (at the right time), so you understand your choices now and in the future, and make the best financial decisions.
We'll keep getting better
Life and business is about moving forward. We will keep looking for new ways to make things better. New ideas. New solutions. New ways to make things easier for you, so we can both stay a step ahead.
Our strategy
ING is a global financial institution of Dutch origin, currently offering banking, investment, life insurance and retirement services through its operating companies ING Bank and NN Group. We draw on our experience and expertise, our commitment to excellent service and our global scale to meet the needs of a broad customer base, comprising individuals, families, small businesses, large corporations, institutions and governments.

The strength of the company is, among other things, based on its relatively high customer satisfaction levels, solid financial position, multi-channel distribution strategy and international network. Moreover, ING is a sustainability leader in its sector.

ING Bank's more than 63,000 employees offer retail and commercial banking services to customers in over 40 countries.

NN Group is a leading insurance and investment company active in 18 countries, predominantly in Europe and Japan, with more than 12,000 employees. NN Group is preparing to become an independent, stand-alone company, through the base case scenario of an initial public offering (IPO).
ING Bank's strategy aims to create a differentiating customer experience, enabled by simplify and streamlining our organisation, further striving for operational excellence, enhancing the performance culture within our company and expanding our lending capabilities. The potential for improvement in these areas varies with our current market positions, which we have divided into Market Leaders (Netherlands, Belgium and Luxembourg), Challengers (Germany, Spain, Italy, France, Australia and Austria) and Growth Markets (Poland, Romania, Turkey and our stakes in Asia).

Our aim is to become the primary bank for more customers through growing the share of payment accounts in retail banking and with anchor products such as lending and transaction services in commercial banking. Market Leaders are our units in the Benelux where we have leading positions in both retail and commercial banking. We will continue to evolve those businesses towards the 'direct first' model (for retail), with a focus on costs and efficiency and capital generation. We will maintain our current market positions and grow in selected segments, and focus on deepening the customer relationships. In the Challenger countries, we offer retail banking mainly in the form of direct banking services, which gives us an operational cost advantage over traditional banks. Here we aim to leverage our direct banking expertise and strong customer focus by expanding our lending business in areas like SMEs and consumer lending. In Growth Markets, we offer a full range of retail and commercial banking services in rapidly expanding economies that offer good growth opportunities with sustainable market shares
NN Group's aim is to help customers secure their financial futureby helping them to manage and protect their assets and income through pensions, investments, insurance, savings and mortgages. Its strategy is to deliver an excellent customer experience by offering appealing and transparent products and services, multi-access distribution, and efficient and effective operations. NN Group also aims to maintain a solid balance sheet and to deliver shareholder value.

Enhancing the customer experience means being accessible, listening to the needs of customers, following-up on their expectations, and offering them products and services that are suitable to their needs. The result is that we help create a stronger financial future for our customers.

In line with its ambition to be a leading, responsible and customer-centric organisation, NN Group introduced its new corporate values in 2013, which are connected to its roots, heritage and common purpose:
"We care": we see our customers as the starting point of everything we do. We respect each other and believe that working together leads to better results. We take our role in society seriously.
"We are clear": easy to understand, transparent and accessible. We listen carefully and take action accordingly. We keep our promises.
"We commit": we take responsibility for what we do. We act with integrity. We focus on our long-term objectives.