How we create value
As a global bank we bring more to society than just our financial value. Our value creation model is a simplified way of showing how we create value for and with our stakeholders.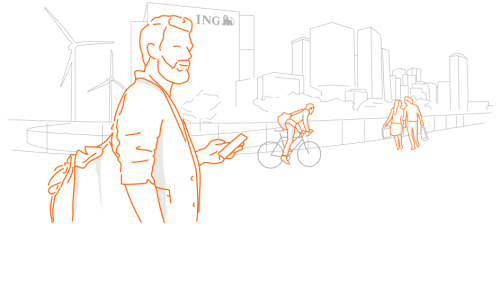 Trends impacting the banking landscape
The world around us is constantly changing. Below, we highlight several important trends that are impacting our operating environment as well as that of our competitors.
View trends
Digitalisation of banking is continuing.
Technology reduced barriers to enter the financial services markets which has resulted in a wave of newcomers targeting segments underserved by traditional banks.
Europe's payments market is opening to non-banks.
Low interest rates are decreasing returns for customers and depressing banks' interest margins.
Ecosystems are developing, allowing users to access social media, online purchases, services and payments all in one app.
A need to reduce operating costs.
The transition to a low carbon economy continues.
The political landscape is changing.
Value in
As a financial institution, our input is mainly in the areas of financial, intellectual and human capital.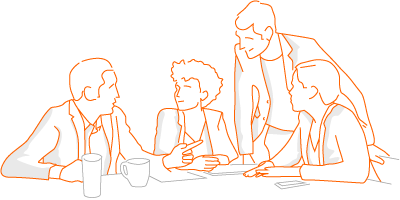 Our people
We believe that in addition to assisting customers a bank should also provide employees the means to be the best they can be.

The expertise, capacity and energy of over 54,000 employees
EUR 70 million spent on training and development.
Employees submitted 1,194 ideas through Innovation Bootcamp.
More than 2,000 employees trained in PACE methodology.
Introduction of a new global Employee Value Proposition (EVP).
Wholesale Banking expertise in a variety of sectors.
Advanced analytics teams in five countries and in Wholesale Banking operations.
Strong belief in diversity
Diversity manifesto introduced in all ING countries.
More than 1,000 employees across eight countries have gone through unconscious bias workshops.
Focus on performance culture
Distinctive culture through Orange Code.
99% of employees took part in a formal performance management process.
Launch of kudos, ING's online compliment tool.
Almost 300 Performance management workshops with around 1,000 managers in 15 countries.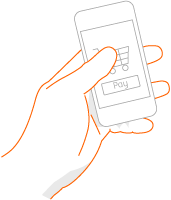 Financial
As a bank, our value chain involves the inflow and outflow of money. We facilitate payments and transactions.
Large and growing customer base
Well-known, strong brand with positive recognition from customers in many countries.
Over 35 million customers entrust us with payments and their deposits.
Solid financial position
EUR 49.8 billion shareholders' equity and EUR 152.4 billion debt securities, bank deposits and subordinated loans.
Increased profitability and healthy development of costs
Increased focus on fee income to compensate for low interest rates.
Focus on cost control; decreasing cost/income ratio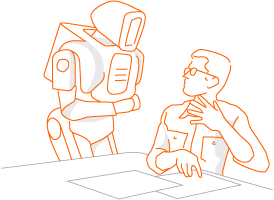 Innovation
Innovation to enhance customer experience and/or move beyond traditional banking
Innovation
Digital channels account for 98% of contact with retail customers; mobile interactions increased by more than 50% during 2016.
Innovation Fund to finance initiatives.
Data analytics to identify customer needs and tailor services and products accordingly.
Innovation to improve operational excellence
Target Operating Models (TOMs) to streamline Finance, HR, Procurement and Risk functions.
PACE methodology to experiment and quickly turn ideas into new products and services.
Cybercrime programme to mitigate any security threat.
Developing thought leadership
Developed thought leadership on blockchain.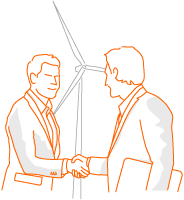 Environmental capital
Our activities impact the environment. This includes the direct impact we have from the operations of our buildings, from IT systems and from business travel.
Environmental programme
Global Environmental Management System (EMS) in place.
ISO14001 EMS certification for head office and operations in the Netherlands.
Sustainable procurement
Global supplier qualification (SQ) process.
ING supports UN Sustainable Development Goals
ING focuses in particular on SDG 8 and 12.
Developing thought leadership
Creating thought leadership on Circular Economy e.g. by joining the Ellen MacArthur Foundation as a CE100 member.
Adherence to Dutch Sector Agreement on Human Rights.
Our Strategy
Empowering people to stay a step ahead in life and in business
Value out
Although our input is mainly in the areas of financial, intellectual and human capital, our output is even broader and also affects the environment and innovation, for example.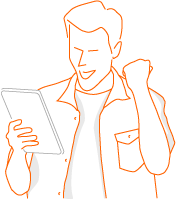 Products & services
Data analytics enable us to exceed expectations by delivering products and services based on customers preferences.
Customers value our products and services
Our number of primary customers increased by more than 8%.
Customers in 7 out of 13 countries rank ING as #1 bank.
Making banking easier
Retail customers now can get a mortgage twice as fast as before in the Netherlands.
Inside Business in 17 countries providing real-time insights and single point of access to manage financial transactions.
In Wholesale Banking, simplified requirements for accounts and payments services, reducing paperwork for applications from 836 to 47 pages.
Channel availability improved to 99.8%.
Supporting economies of countries where we are present
Lending grew by EUR 35 billion
EUR 282 billion outstanding in mortgages
Instant lending platforms developed.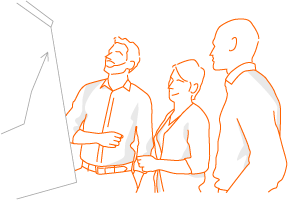 Our people
Being a responsible employer that provides staff with good working conditions and opportunities for growth.
Being a good employer
Human Capital Return on Investment 2.59.
Improved employability and helping employees to find new opportunities.
ING ranked as one of the most transparent financial sector companies in the Netherlands when it comes to diversity and social equality in Bloomberg Financial Services Gender-Equality Index.
The Top Employer Institute gave several ING operations in Europe the highest classification.
Of our managers of managers, 29.3% were women.
Performance culture
79% of employees globally indicated they were aware of the Orange Code.
Almost 33,000 employees signed up as kudos users and more than 143,000 compliments were sent amongst employees.
Strong employee engagement scores
Employee engagement score of 77%.
Impact of changing banking landscape and technology on people
We anticipate 7,000 jobs will be impacted by the acceleration of the Think Forward strategy.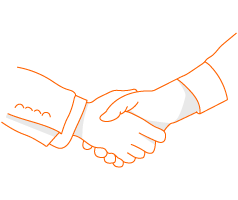 Financial
ING aims for strong and stable financial results
Strong financial results
Fees and interest results: EUR 15.7 billion.
Ensuring stability
14.2% Common Equity Tier 1 ratio.
Low credit risk due to diversified nature of lending portfolio Wholesale Banking.
Shareholders value
EUR 2,560 million dividend.
Paid taxes and regulatory costs
Responsible tax principles: global effective tax rate for continuing activities of 27.4%.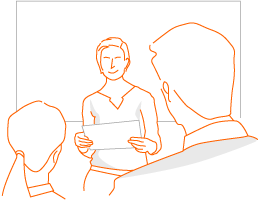 Innovation
We place a high priority on innovation within ING to keep pace with the change around us and meet changing customer needs by delivering innovative products and services.
Move fast and fail fast innovations
Innovation Fund financed 20 initiatives in 2016.
External collaborations
More than 65 fintech partners
11 investments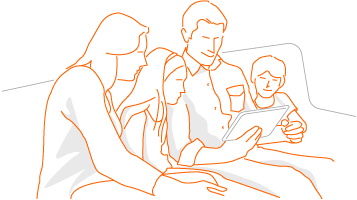 Social & network
We empower customers and help them to make well-informed financial decisions.
23.9 million customers feel financially empowered by ING initiatives.
95,227 adolescents reached through PFY UNICEF programme.
ING is a founding member of the Think Forward Initiative.
10% of Groenbank's balance sheet for impact activities, including education and research.
ING funds research, makes donations and shares its knowledge, with employees volunteering as guest lecturers.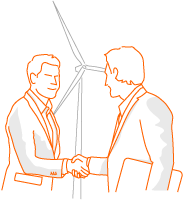 Environmental
We can help facilitate the transition to a fairer, greener economy by financing projects that accelerate clients' sustainable transitions and supporting clients that contribute solutions to environmental and social challenges.
Support progress
EUR 34.3 billion sustainable transitions financed
EUR 3.31 billion sustainable assets under management
Responsible lending
ESR is applied to 100% of our corporate loans.
Own environmental footprint
CO2 emissions decreased by 27%.
91% of our global electricity use is from renewables.
Impact on society
As a large financial institution, we have a broad impact on society, both directly through our own operations and indirectly through our financing portfolio. With this influence comes responsibility. For us, this means making careful and transparent choices about how, where and with whom we do business.
Impact on society
Sustainable and inclusive economic growth consistent with UN's Sustainable Development Goal 8.
Financially empowered people who contribute to a healthy economy.
Enhanced skills set and employability of adolescents through volunteering and donation programmes.
Economic development and job creation in emerging countries through impact finance.
Responsible consumption and production consistent with UN's Sustainable Development Goal 12.
Direct environmental and social impact through our reduced operational footprint, respectively human rights focus.
Indirect impact by supporting clients in addressing environmental and social challenges impacting their business.
Knowledge creation on pioneering themes (e.g. Circular Economy) through thought leadership.