ING at a glance
Who we are
ING is a global bank with a strong European base. Our 57,000 employees serve around 39.3 million customers, corporate clients and financial institutions in over 40 countries. Our purpose is to empower people to stay a step ahead in life and in business.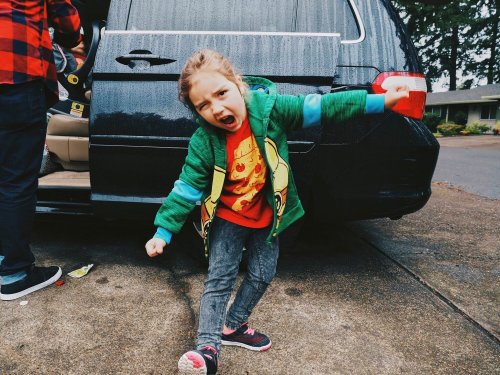 Our products include savings, payments, investments, loans and mortgages in most of our retail markets. For our Wholesale Banking clients we provide specialised lending, tailored corporate finance, debt and equity market solutions, payments & cash management and trade and treasury services.

Customer experience is what differentiates us and we're continuously innovating to improve it. We also partner with others to bring disruptive ideas to market faster.

Our shares are listed in Amsterdam (INGA NA, INGA.AS), Brussels and New York (ADRs: ING US, ING.N).

When it comes to sustainability, we facilitate and finance society's shift to a low-carbon future and pioneer innovative forms of finance to support a better world. As such, we're ranked first in the banks industry group by Sustainalytics and have an 'AA' rating in MSCI's ratings universe. ING Group shares are included in major sustainability and Environmental, Social and Governance (ESG) index products of leading providers STOXX, Morningstar and FTSE Russell.

Also check out ING's profile document (PDF 1,8 MB).



Where you'll find us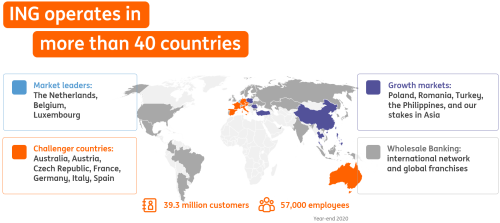 Market leaders:
The Netherlands, Belgium, Luxembourg
Leading retail and wholesale banks
Cross-border customer interaction platform with mobile-first customer experience and cost efficiency
Challenger countries:
Australia, Austria, Czech Republic, France, Germany, Italy, Spain
Digital retail banks developing scalable platform with uniform, mobile-first customer experience
Broadening product capabilities
Wholesale banks
Growth Markets:
Poland, Romania, Turkey, the Philippines, and our stakes in Asia
Retail and wholesale banks in economies with high growth potential
Developing differentiating customer experience, based on mobile-first approach
Wholesale Banking:
International network and global franchises
Extensive international client base across all regions
Sector-focused client business in lending, capital structuring and advisory, transaction services, sustainable finance solutions and financial markets
How we're doing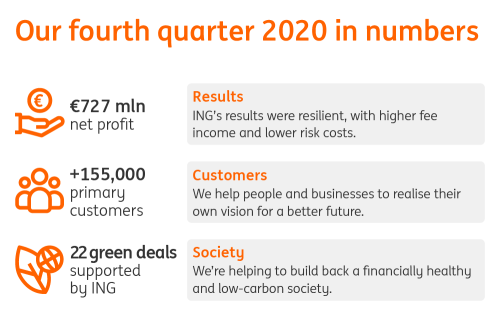 View detailed factsheet (PDF 0.3 MB)
Key figures
Key figures in accordance with IFRS-EU
Non-financial key figures
2019
2018
2017
Net Promoter Score Retail Banking (number of countries with number one ranking, rolling average) 1
7
7
7
Total number of Retail Banking primary relationships (in million, year-end) 1
13.3
12.5
11.4
Climate Finance (lending outstanding in EUR billion, year-end) 2
18.8
16.5
14.6
Social Impact Finance (lending outstanding in EUR billion, year-end) 2
0.7
0.8
0.5
Sustainable Investment services (in EUR billion, year-end)
9.3
6.3
4.8
Number of customers that felt financially empowered (in million, year-end) 1
25.9
25.0
25.4
Underlying Human Capital Return on Investment indicator
2.38
2.51
2.51
Retail Banking system availability in the Netherlands and Belgium (in percentage) 1
99.7
99.7
99.7
Wholesale Banking system availability (in percentage) 1
99.9
99.9
100
Consolidated result
(in EUR million)
2019
2018
2017
Net result attributable to ING Group's shareholders
4,781
4,703
4,905
Underlying net result Banking 3
4,781
5,389
4,957
Underlying result before taxation Banking 3
6,834
7,524
7,199
of which underlying income 3
18,306
18,088
17,704
of which underlying operating expenses 3
10,353
9,907
9,829
of which underlying addition to loan loss provision
1,120
656
676
Balance sheet
in EUR billion, year-end
2019
2018
2017
Total assets ING Groep N.V.
892
887
846
Shareholders' equity ING Groep N.V.
53.8
50.9
50.4
Customer lending ING Groep N.V. 4
616
597
574
Customer deposits ING Groep N.V.
574
556
540
Other indicators
2019
2018
2017
Risk-weighted assets

(EUR billion, year-end)

326
314
310
Our financial goals
◎ Financial ambitions
2019
2018
2017
Common equity Tier 1 ratio fully loaded ING Group
◎ ~13.5%

(Basel IV)

14.6%
14.5%
14.7%
Leverage ratio ING Group 1, 5
◎ >4%
4.6%
4.4%
4.7%
Underlying cost/income ratio 3
◎ 50-52%
56.6%
54.8%
55.5%
Underlying return on equity ING Group 3
◎ 10-12%
9.4%
11.2%
10.2%
Dividend per share (in euros)
◎ Progressive dividend
0.69
0.68
0.67
Share information
2019
2018
2017
Net result per share (in euros)
1.23
1.21
1.26
Shareholders' equity per share (end of period in euros)
13.80
13.09
12.97
Dividend per share (in euros)
0.69
0.68
0.67
Price/earnings ratio
8.7
7.8
12.1
Price/book ratio (end of period)
0.77
0.72
1.18
1 Subject to reasonable assurance by KPMG. Throughout the report indicated with a Ⓐ. See 'Independent auditor's assurance report'.
2 For a description of ING's Climate Finance and Social Impact Finance, please visit www.ing.com/19ar0723
3 Underlying figures are non-GAAP measures. These are derived from figures according to IFRS-EU by excluding the impact from special items and Insurance Other. See page 418 of the Annual Report for a reconciliation between GAAP and non-GAAP figures.
4 Customer lending is defined as: loans & advances to customers -/- provision for loan losses.
5 The leverage ratio of ING Group according to the Delegated Act (including grandfathered securities) takes into account the impact of grossing up the notional cash pool activities.