Strategy
Our purpose is...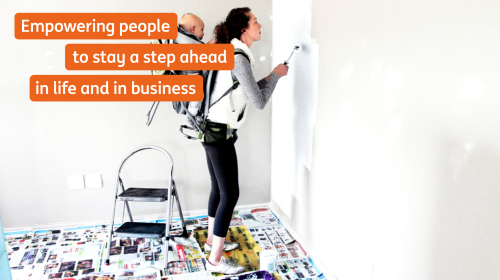 Our purpose - empowering people to stay a step ahead in life and in business - represents our belief in people's potential. We don't judge, coach or tell people how to live their lives. However big or small, modest or grand, we empower people and businesses to realise their own vision for a better future.

We know people don't need banks, they need banking. Our promise is to make banking frictionless, removing barriers to progress and giving people the confidence in their ability to make decisions and to move forward. This promise frees them from the constraints that stand between them and their passions and encourages them to do more of the things that give their life meaning.

Our purpose guides us in everything we do. It's founded on our belief that ING's role is to support and promote economic, social and environmental progress, and at the same time generate healthy returns for shareholders.
do your thing
'do your thing' is our brand direction and ING's first global tagline. It is how we articulate our purpose and our promise to make banking frictionless to the world. 'do your thing' is not about irresponsible behaviour but about people being free to live the life they want to live, knowing that they will make their world a little better for it.
Check your cookies or your browser settings if you are unable to see the video on this page.
Our strategy
ING's strategy is built around our purpose and making the difference for people and the planet by providing a superior customer experience and putting sustainability at the heart of what we do.

In a world that's constantly changing, we're digital and sustainability pioneers, adept at adapting to the trends that impact our business and influence the expectations of our customers and society.
Superior customer experience
Customers big and small expect an experience that's easy, personal, instant and relevant to their needs.

What this looks like will of course depend on the type of customer. For consumers and small businesses our focus is predominantly on mobile banking, while for corporate clients it's all about personal relationships and superior sector and network expertise supported by seamless digital delivery.

To give our customers a superior experience we're building on our strong technology and operations foundation to provide seamless digital services while keeping their money and their data safe and secure.
Sustainability at the heart
We have a responsibility to society to define new ways of doing business that align with economic growth and social impact. Climate change is one of the world's biggest challenges, threatening both our planet and its people, many who also struggle with inequality, poor financial health and even a lack of basic human rights. We're determined to be a banking leader in building a sustainable future for our customers, society and the environment.

We lead by example by striving for net zero in our own operations. We play our full part in the low-carbon transformation that's necessary to achieve a sustainable future, steering our financing towards meeting global climate goals and working with clients to achieve their own sustainability goals. And we manage the most relevant environmental and social risks.