Financial Empowerment
Our purpose is to empower our customers to stay a step ahead in life and in business. One of the main ways we do this is by offering products, services and tools that make it easier for them to handle their money matters and to make better financial decisions, now and for the future.

These better decisions improve their day-to-day finances, but we also believe financially empowered people contribute to a healthy economy and help drive social progress.
Our approach
There are three ways we approach financially empowering our customers.
Clear and easy
First, we offer clear and easy products and services anytime, anywhere. For example, we simplified our savings products in the Netherlands by reducing the number available to 10 from about 60, and in all our leading markets we introduced a mobile app that makes it easier for customers to regularly check their balances.

We're also committed to making products accessible to all areas of society. For example, all 631 branches in the Netherlands are wheelchair accessible and all 2,608 ATMs are adapted for the visually- and/or hearing impaired, with braille keypads, large fonts and audio that increases in volume when a customer's card or money is not removed quickly enough. Visually impaired customers in the Netherlands can also use the voice-activated system "Inge" to check balances and make payments. Our "Branch in a Briefcase" project in Belgium assists by reducing the need for visits to actual branches.

We also aim to provide banking services to people who have trouble receiving them because of social or economic reasons, such as with ING Groenbank's impact finance and financial inclusion activities in developing economies.

To support our and the sector's move towards financing small and medium-sized enterprises (SMEs), our research and advisory service is another important part of our financial inclusion activity. Its "A Billion to Gain?" report has been published biannually since 2006. The 2016 edition focused on fintech for micro, small and medium sized enterprises.

The right information
Secondly, we offer the right information and tools at the right time. Take the early-warning mortgage system in the Netherlands, for example. Customers at risk of mortgage payment trouble are offered help such as meetings with a mortgage coach, interest payment postponement, cancellation of penalty interest, mortgage restructuring, budget coaching and even job coaching. This all before they get behind on payments.

We offer a range of websites, blogs, tools, webinars and dialogue sessions to deliver on our promise, such as the Financially fit Test. This is already available in several ING countries and we plan to bring it to all ING Retail banking units.

We conduct the ING International Survey to gain insight into how people around the globe spend, save, invest and feel about money. It's one of the biggest surveys of its type in Europe and reports on savings, mobile banking, homes and mortgages, as well as special topics such as financial education, decision-making and even Christmas-season spending habits. Read more here on the ING International Survey.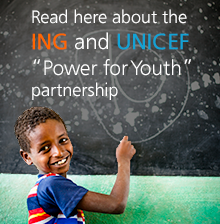 A positive impact
Lastly, we aim to make a positive impact in the communities we operate in, and on society in
general.

We focus on young people because we're convinced that good financial habits are developed early. We fund research, make donations and share our knowledge, such as by volunteering as guest speakers in the primary school programmes "Coltiva il tuo sogno" (Grow your dreams) in Italy and "Orange Drops" in Turkey.

Our "Power for Youth" partnership with UNICEF aims to reach 335,000 adolescents in less-developed countries – to help them develop the social and financial knowledge and skills they need to build brighter futures for themselves, their families and their communities. Read more on our "Power for Youth" partnership with UNICEF.

The Think Forward Initiative
We all like to see ourselves as sensible and logical decision-makers, but study after study shows that our decisions are driven by many other (often subconscious) factors. Why exactly do we make bad financial decisions? Is it because it's too hard to imagine and consider our future needs over our current needs? Does the abundance of choice help us or hinder us?

That's why ING, together with partners Deloitte, Dimension Data, CEPR (Centre for Economic Policy
Research), Microsoft and Dell/EMC started the Think Forward Initiative: to gain a deeper understanding of the behaviour behind financial decision-making and then harness those insights to help people make financial decisions that are better for them, and ultimately better for society.

This three-year initiative is focused on using the knowledge we gain about financial decision-making as a springboard for action and developing solutions. Besides conducting research, it will bring together experts from the financial industry, policymakers, academics, consumer groups and technology companies in a series of gatherings and working groups. Read more on the Think Forward Initiative.

How are we doing?
We want to be sure our efforts are really driving sustained improvements in the financial behaviour of our customers and society. We measure our performance to make sure we're helping more people to stay a step ahead each year. That is why in 2016 we announced our ambition to make 25 million people feel financially empowered by 2020. In 2016, 23,9 million people felt financially empowered. We also had more than 101,9 million interactions with customers and non-customers through our financial empowerment initiatives.

Aspiration
Our ambition: to make 25 million people feel financially empowered by 2020
Our ambition: strive to achieve the highest Net Promoter Scores in all retail banking businesses compared to our peers
Our performance in 2016: 7 out of 13 retail banking business units achieved 1st place
Target
Our goal: It is our goal to empower 335.000 adolescents in six countries by 2018 via our partnership with UNICEF
Our performance in 2016: We've reached 95,227 adolescents until August 2016